Published on August 29th, 2014 in: Current Faves, Feminism, Music, Music Reviews, Reviews |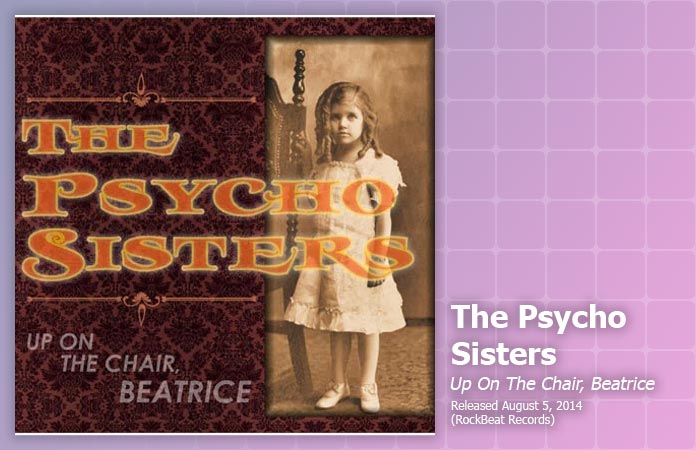 In the 1990s, I was lucky enough to live in New Orleans. The Continental Drifters lived there, too, and I've lost track of the number of times I saw them play live, mostly at The Howlin' Wolf. Drifter Peter Holsapple played a free acoustic set every Sunday at Carrollton Station which completely obliterated the "Sunday night blues" for those of us stuck in that Monday to Friday, 9 – 5 grind. And occasionally, Drifters Susan Cowsill and Vicki Peterson would perform as The Psycho Sisters. Those familiar with The Cowsills or The Bangles who've never heard these two women harmonize are in for a special treat with Up On The Chair, Beatrice.
Despite consisting only of songs written and/or performed more than 20 years ago, this is not an album that's going to remind you of the early '90s, unless of course, you were also lucky enough to see The Psycho Sisters perform back then.
The album is bookended by two covers (the sobering "Heather Says," which originally appeared on The Cowsills' 1971 album On My Side and the Nilsson-penned Monkees tune "Cuddly Toy") but most of the others are Susan and Vicki collaborations. If "Heather Says" doesn't make you an instant fan, you might be a lost cause. Still, there are nine more songs that feature those glorious harmonies, so keep listening.
"Timberline" has some great bass work from Derrick Anderson and no doubt any woman over age 25 can relate to the lyrics of the pretty but pointed "Never Never Boys" (a Peterson/Bob Cowsill collaboration). "Numb" feels anything but, with some uneasy violin from Sam Craft and Peterson's straightforward but intimate vocal style.
"Gone Fishin'" might be the catchiest track on the album, with some gorgeous harmonies that will stick in your head like cotton candy in your teeth. The accordion in "This Painting" underscores the sardonic tone of the story the song tells. On the other hand, "Fun To Lie" seems cheerful despite its somewhat cranky protagonist. Similarly, "What Do You Want" bounces along merrily and makes the subject matter go down easy. (It's worth noting that this is another cover, this time from Holsapple, and you'll definitely recognize his distinctive style if you're a fan.) "Miss You" benefits from vaguely spooky guitars and strings.
There's a bittersweet aftertaste to Up On The Chair, Beatrice: The Psycho Sisters were so named by Bill Bartell (founder of White Flag and legendary überfan and provocateur) who unfortunately passed away almost a year ago. I know if Bill were still here he'd be honored to know this lovely album was dedicated to him.
Up On The Chair, Beatrice was released by RockBeat Records on August 5.