Published on August 15th, 2014 in: Music, Waxing Nostalgic |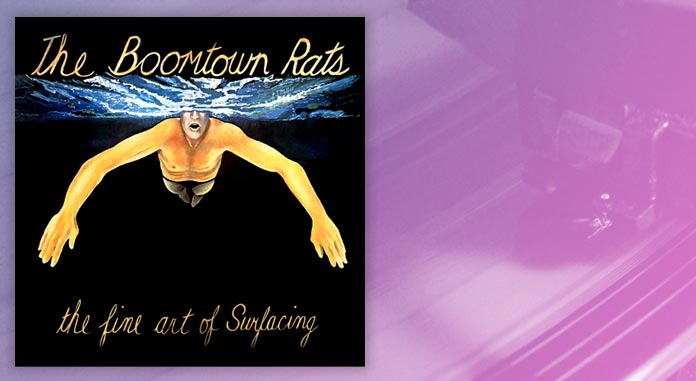 There was once a time when "Sir" Bob Geldof was known for something other than organizing huge benefit concerts to feed the hungry. In fact, there was once a time when he was the hungry one. Hungry to find meaning in the world, and to find his place in it. In 1979, Geldof and his band The Boomtown Rats released one of my favorite albums, but the fact that it contained what amounted to a novelty hit ("I Don't Like Mondays") consigned The Boomtown Rats to "one-hit wonder" status and left the rest of this masterpiece of angry pop criminally undiscovered. In fact, the album was extremely difficult to find on CD in North America until a 2005 release added some bonus tracks.
We might as well deal with "I Don't Like Mondays" right away. Geldof was a former journalist, and you could see why he'd take inspiration from a newspaper account of a 13-year-old California teenager who shot 11 people with no remorse. When asked why she'd done it, she replied nonchalantly, "I don't like Mondays." Geldof's outrage is somewhat obscured by his clever lyrics and sneering vocals, but it's there. On "Diamond Smiles" he tells the sad story of a rich socialite who hangs herself at a grand party. "When the Night Comes" is about how the office drones try to escape their soulless jobs by fumbling for connection. Whether it's the emptiness of riches, the incomprehensibility of random violence, or the alienation of our modern world, Geldof was a brilliant storyteller. Almost every song has a character at its center, someone who is acting out their part in this confusing place. On "Someone's Looking at You," Geldof even eerily predicts our surveillance-mad post-9/11 culture of suspicion. This is a brilliant collection of pop songs with lyrics that are actually worth listening to.
Some people were surprised when the sneering Geldof became the ambassador for charity in the mid-'80s, but not me. You can't be born in Ireland and raised in a flawed but still vital Catholicism without emerging as an idealist. A frustrated and angry idealist, usually, but credit to Bob for not just giving up on this messy old world. When I first discovered this album, probably sometime in the '80s, I saw Bob as a great example of someone whose brain hadn't completely crushed their soul. Even without the knighthood, I'd call him sir.
Track Listing:
1. Someone's Looking at You
2. Diamond Smiles
3. Wind Chill Factor (Minus Zero)
4. Having My Picture Taken
5. Sleep (Fingers' Lullaby)
6. I Don't Like Mondays
7. Nothing Happened Today
8. Keep It Up
9. Nice 'n' Neat
10. When The Night Comes
This article was originally published on Consolation Champs on March 24, 2006.