Published on July 25th, 2014 in: Current Faves, Music, Music Reviews, Reissues, Retrovirus, Reviews |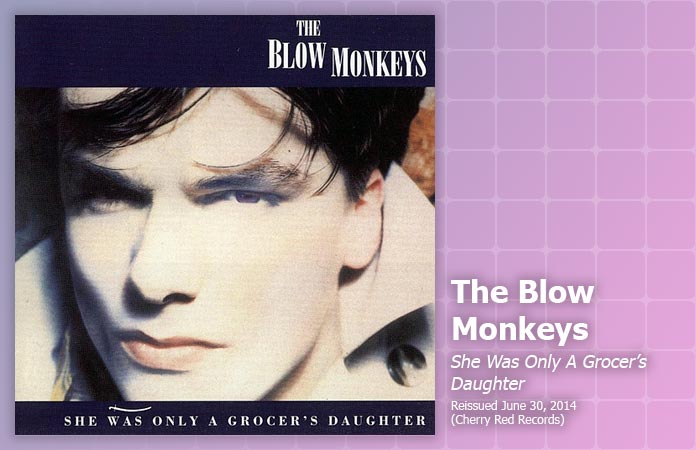 After reissuing The Blow Monkeys' first two albums, as well as their stellar newest album, Feels Like A New Morning (review), Cherry Red Records has released a deluxe edition of 1987's She Was Only A Grocer's Daughter. And a deluxe edition it is—remastered, chock full of remixes and astoundingly good demos, enhanced by an interview with The Blow Monkeys frontman, Robert Howard (Dr. Robert), in the liner notes. It is a boon for completists, collecting all the bits and bobs into one excellent package.
There are six versions of their #5 UK hit, "It Doesn't Have To Be This Way." One might call that excessive. It's exhaustive, to be sure. "It Doesn't Have To Be This Way" is a direct descendent of "Digging Your Scene," sharp and crisp with the band's signature guitar sound and sonic sheen. The remix, "This Is The Way It Has To Be" is notable for the moments of just Howard's voice over a beat; it is lovely that way. "The Grantham Grizzler" (another remix) is a more sinuous version. The demo, included on the second disc, is wonderful. It begins with a captivating solo sax from Neville Henry. It's a stripped down but still elegant version, warmer than what was released eventually.
Howard called "Out With Her" his "George Michael moment" and it is that: overly slick and a bit cheesy. His effortless slide into falsetto, though, makes it worth hearing. Better is "Man At The End Of His Tether" with crisp playing from the Borneo Horns and Howard really letting loose vocally. "Checking Out" is a departure with wah wah guitar, sultry bass, and a free and lively piano solo.
The Blow Monkeys don't always do the too slick, carefully produced for maximum tinniness '80s sound on She Was Only A Grocer's Daughter. On the fierce and inventive "Don't Give It Up," Howard raps like a posh carnival barker on Quaaludes. "Cash" is downright bluesy, with some interesting slide guitar that sounds as if it were Middle Eastern. It's a great effect. "I'm So Glad" is a smart departure from their sound with relaxed, low key vocals. "Huckleberry" alias "It's Got To Be A Hitch" finds Howard almost rapping with his quick delivery. It's shambling and experimental with some unusual synth sounds.
The Blow Monkeys cloaked their political views in soul and sheen, but that didn't stop the BBC from banning their song "(Celebrate) The Day After You" for political bias (The Blow Monkeys weren't fans of Margaret Thatcher). There are five versions of the song represented here. The throbbing bassline on the single version is impressive, but better than that is how glorious Robert Howard sounds alongside soul king Curtis Mayfield. It's joyful and delightful. Paul Weller's mix is a clever breakdown of the song that only vaguely resembles the original and pushes Mayfield's voice way up in the mix. The Unity mix is shiny, and the long version takes the song, throws in some funk bass, and makes it almost industrial.
The band disappeared from the US after their big hit due to label politics, which is a shame. They could have had a huge hit with "It Doesn't Have To Be That Way" and could have garnered new fans with the scope of their creativity. She Was Only A Grocer's Daughter is an illuminating look at a band that had so much more up their finely tailored sleeves than just slick pop.
She Was Only A Grocer's Daughter was reissued by Cherry Red Records on June 30.