Published on July 25th, 2014 in: Action Movies, Blu-Ray, Comedy, Current Faves, DVD/Blu-Ray Reviews, Horror, Movie Reviews, Movies, Reissues, Retrovirus, Reviews |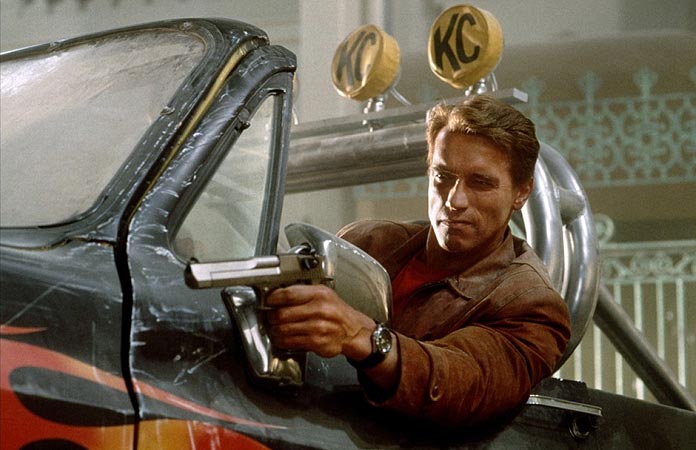 Mill Creek has blessed us many times with their double packs and some great Blu-Rays. Yes, they come up criminally short of special features, but they do have some decent transfers and their prices are next to perfect. Recently Mill Creek has reissued some classics and I think they look fantastic.
First up, there's Anaconda which looks great considering a lot of '90s flicks look weird on Blu-Ray. They have this glossy sheen that irritates the hell out of me but this looks rather sharp. I also always overlooked Anaconda because I didn't care for it when I was younger. Recently, I had a change of heart after I watched it again and now think it's a decent flick. Of course, the CGI looks funky at times, but when they use practical effects for the snake it looks fantastic and took me by surprise. This is definitely something to check out if you haven't seen Anaconda yet and if you have you can pick it up for a decent price.
Mill Creek has also given Last Action Hero the video release it deserves . . . well, it is one of the best transfers I've seen for this film to date. Last Action Hero bombed at the time of its original release but blew up years later to become a huge cult favorite. It took some time to find its audience but at this point I'm happy it has found its place and received the credit it deserves. This release finally includes the proper aspect ratio instead of that Pan and Scan bullshit we have had to deal with for the past few years. I hope we get a special edition at some point but this release will do for now.
Finally, Mill Creek has issued The Legend Of Billie Jean. This was a first for me and I'm surprised I missed this gem growing up. For years, based on the cover, I thought it was a workout video. I realized it was an actual movie a few years ago but never gave it the chance. Holy crap, it is fantastic. . I'm hoping this Blu-Ray release will create a resurgence in popularity for this movie and give it a little more exposure. I now wish I would have seen it back in the day because, despite being rated R, it feels like it was geared towards teenagers. I'm guessing the reason it isn't talked about too much is because of the rating, sort of like The Last American Virgin, a great teen comedy that suffered because it was rated R (a hard R). The Legend Of Billie Jean really didn't deserve that rating even though they throw the F-word around here and there. In all seriousness, the people who wrote teen comedies with explicit language and sex were actually writing real stories and not just "boy always gets the girl" PG-13 bullshit. I do respect any film that crosses those boundaries and The Legend Of Billie Jean is one of them.
Mill Creek has released some great films recently with some decent transfers. None of their titles are much more than $10 and in my eyes, that is a good price for just the film. I would like to see them put more effort into their upcoming releases with bonus features, but for now we will have to settle with just the films themselves. Mill Creek also has some other killer releases coming out so I'm excited about those as well.
Anaconda, Last Action Hero, and The Legend Of Billie Jean were all released by Mill Creek on July 22.