Published on June 6th, 2014 in: Music, Waxing Nostalgic |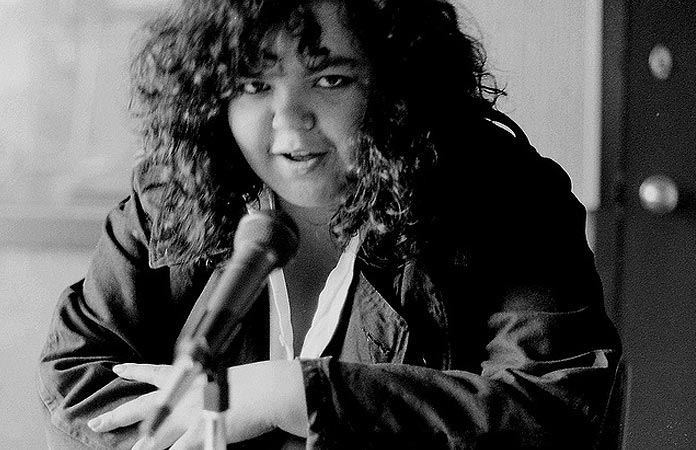 In the Eighties, the Reagans told everyone to just say no, but our musical heroes were blatantly advising us to say "yes" as often as possible. Who do you think was more fun to listen to: Nancy Reagan or Terri Nunn?
Exactly.
Here then, in ascending order, are my favorite New Wave songs about sex.
5. Cyndi Lauper, "She-Bop"—It took people a couple of weeks to realize just what was going on in this song, because it's so darned catchy. You can dance to it, if you want to, and completely ignore the lyrics. After all, "bopping" is another word for "dancing," right?
Well, it is, but that's not where this song is headed. This song is about female masturbation. If there's any doubt as to what she's fapping over, Lauper references Blueboy magazine, a legendary gay porn magazine that stopped publication in 2007. How heavy duty is that? This is not something Western society is comfortable talking about at all. Mothers in 1984 were not happy about hearing such things on Top 40 radio, or listening to their daughters singing along.
The song, as poppy as it is, broke some serious ground. "She-Bop" helped bring the fact that, yes, girls do that, into the national conversation.
4. DiVinyls, "I Touch Myself"—Where Cyndi Lauper beat around the bush with the veiled lyrics of "She-Bop," Christina Amphlett just came right and said it. "I don't want anybody else/When I think about you, I touch myself." Huh! Nothing ambiguous there.
Amphlett's self-assured crooning about the tenuous joys of loving the one you're always with was sexier than Lauper's Betty Booping, and probably put a lot more wicked thoughts in the minds of international teenagers. It charted highly around the world (#4 in the US, #1 in Australia), and by addressing the topic head-on, made a real step towards bringing women's sexuality out from under the apron.
3. Animotion," Obsession"—Couched in all the heavy synth and male/female call and response aesthetic of this tune is a beautifully intense paean to role playing, with just a splash of dom/sub action for flavor. It's the back and forth vocals that really sell this one. Both male and female, begging for more and different levels of degradation, deeper depths of experience. Make no mistake: it's hot.
There's a tremendous amount of debauchery in this song, a willingness to go deeper into fantasies. It's fascinating, and the listener is enraptured and left wondering. After all, if someone you really liked asked, "Who do you want me to be to make you sleep with me," what would you say?
2. Berlin, "Sex (I'm A)"—Talk about laying it all on the line! Terri Nunn and her boys from Berlin run the gamut. We all play interesting roles in our sexual relationships, sometimes roles we would never talk about in our everyday lives. It's hard to imagine telling someone you work next to at the cubicle farm, "Yeah, I'm a switch at home, but I can't get off unless he dresses like a Nazi doctor." Berlin doesn't go quite that far, but they may as well.
Nunn sings about typical expected sex roles for women and manages to make them all sound appealing, while still remaining subservient to the male of her dreams. Make of that what you will. She's a slut, she's a goddess, she's a blue movie, she might be bisexual. But the man in the song is nothing but a man, and his inflexibility is problematic, but it makes for a damned good song, especially if you listen to the extended mix, which allows you to hear some of the finest recorded orgasmic noises since Donna Summer decided to feel love sometime in the late Seventies. Are they real orgasm sounds? How would I know that? You perv.
1. Romeo Void, "Never Say Never"—History wants to you to believe that the slogan for the entire decade of the Eighties was, "Just Say No."
Fuck that.
The real slogan of the Eighties was written by the lead singer of Romeo Void, Debora Iyall.
"I might like you better if we slept together (and there's something in your eyes that says maybe)."
To understand the full glowing glory of that line, you must understand Debora Iyall. She was not white. She was not skinny. She was a heavy American Indian, who blasted onto the scene just to break it. She gave permission for every girl to own her sexuality. You didn't have to be a cheerleader. You didn't have to be a bulimic Caucasian. In the Eighties, that was a breath of fresh air.
Debora wasn't safe. She was a loose cannon. You couldn't control or tame her. She ran around the fringe, taunting the Paula Abduls and Debbie Gibsons, screaming, "I can get laid, too. Any girl can get it if she wants it."
This was the open door. This was the engraved invitation. This is the theme of the Sexual Revolution we have forgotten how to sing. It is an indictment of the whole jock/stud community. You think you wouldn't try to get into Debora Iyall's pants? She thinks you're wrong.
Never say never, jocko homo.
Check out X's favorite songs about sex on our exclusive Waxing Nostalgic playlist on Spotify! Maybe you'll get laid while you're playing it. "Oh, your taste is so esoteric and exquisite; I simply must make love to you." We don't guarantee anything but, shit. Couldn't hurt, right?