Published on June 6th, 2014 in: Current Faves, Feminism, Music, Music Reviews, Reviews |
By Cait Brennan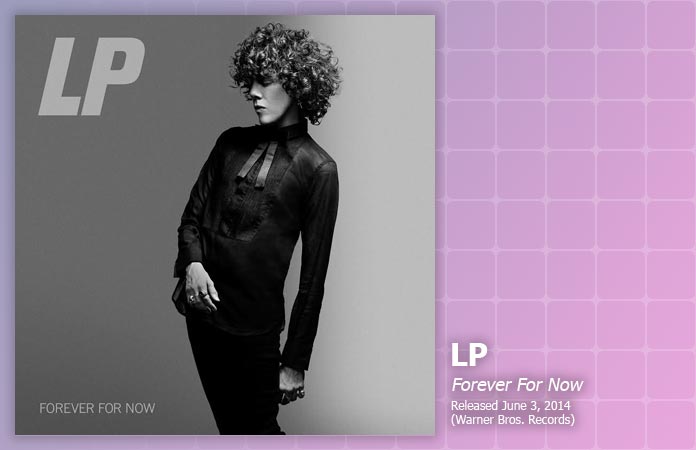 New York-born, L.A.-based singer/songwriter LP is a true American survivor. With roots in the music business going back to the '90s, LP recorded two promising albums in the early 2000s, collaborating with Cracker's David Lowery and hit maker Linda Perry in the process. But the impossible to pigeonhole artist and her considerable charm and swagger never really fit in with the machine. Deals with labels like Island Def Jam didn't pan out, and LP reinvented herself as a songwriter, co-writing smash hits for Rihanna ("Cheers [Drink To That]") and Christina Aguilera ("Beautiful People"), among others.
It looked like performance was in LP's past, but when a series of low-key shows brought Warner Bros. calling in 2011, the timing was finally right. The result was "Into The Wild," a single that broke through with a hit YouTube video, a savvy commercial placement, and heavily-hyped, well-received performances at SXSW '12, including an adorable guerrilla street performance on ukelele that ticked all the boxes on your indie bingo card at once. It's a fantastic, booming song, one that LP said was influenced by a life-changing encounter with the music of Roy Orbison, and it promised big things.
Well, it's 2014, and big things have finally arrived: LP's full-length debut for Warner, Forever For Now, is finally here. Produced by Grammy winner (and current Warner Bros. Records chairman!) Rob Cavallo (Green Day, My Chemical Romance), Forever For Now achieves a pretty impressive feat—it seamlessly blends contemporary pop, indie rock sensibilities, and LP's fiercely individual style into a sonic confection that's filled with big, irresistible hooks and her own unique voice—literally and figuratively.
"Heavenly Light" sets the tone right out of the gate with a pulsating kick drum, a positive message, and a huge, uplifting electro chorus. "Night Like This" takes the big stomping beat in a different direction, with lilting harmonies and LP's tremulous falsetto soaring ever more stratospheric.
Though its title makes it seem like it came from the '80s, LP makes "Tokyo Sunrise" work by putting a lot of feeling into her wordplay and passion in her vocal performance. "Salvation", "One Last Mistake," and "Free To Love" all demonstrate that same level of commitment—she gave this album her all, and it shows.
While the big (potential) hits are up front, a lot of the gems are hidden later in the track listing. "Your Town" is a particular treat, as LP ruminates on a lost love while visiting the town where her former love lived. "Even though the streets are filled with pain, there's a part of me that always wants to stay in your town," LP sings, a heartbreaker of a line that will hopefully sway the judge come restraining order time. "Free To Love" is surely going to end up a staple at Pride celebrations any minute now, and "Someday" continues that theme: "Someday they'll try to break you, but baby, I won't let 'em take you away," she sings over an instant-hit beat.
The original version of "Into The Wild" is included here, and it's a much-needed breath of fresh air, filled with drama and tension and joy, and a reminder of what makes her stand out. And the stripped-down title track, "Forever For Now," closes the set a million miles away from the pop sounds at the start with a mournful and spooky ballad that will haunt you until you return. It's unexpected and weird and quite wonderful.
LP is swinging for the bleachers here, and Cavallo filled every space with big production to match her big voice—and perhaps at times he goes too far, obscuring her singular charm and style with too much producer and not enough of LP and her uke. But she'll kill 'em live, and she's earned this chance but good, so here's hoping it pays off. Forever For Now is overflowing with good will and hooks for miles, and it's a great summer listen.
Forever For Now was released by Warner Bros. Records on June 3.
Tour Dates:
6/3: Los Angeles, CA; Sayers Club (Record Release Headline Show)
6/05: Baltimore, MD; WTMD First Thursday's Concert Series
6/06: New York, NY; WFUV NYC Marquee Member Event @ Rockwood
6/08: Nashville, TN; WRLT / Lightning 100 Nashville Sunday Night Live @ 3rd & Lindsley
All dates with Phillip Phillips and O.A.R. are below:
6/12: St. Louis, MO; Fox Theater
6/13: Kansas City, MO; Crossroads
6/14: Morrison, CO; Red Rocks Amphitheatre
6/15: Council Bluffs, IA; Stir Cove
6/17: Columbus, OH; LC Pavilion
6/18: Pittsburgh, PA; Stage AE
6/20: Cleveland, OH; Jacobs Pavilion at Nautica
6/21: Chicago, IL; First Merit Pavilion @ Northerly Island
6/22: Sterling Heights, MI; Freedom Hill Amphitheatre
6/23: Grand Rapids, MI; Frederik Meijer Gardens
6/27: Indianapolis, IN; The Lawn at White River (No PP)
6/28: Cincinnati, OH; Riverbend Music Center