Published on May 9th, 2014 in: Current Faves, Music, Music Reviews, Reviews |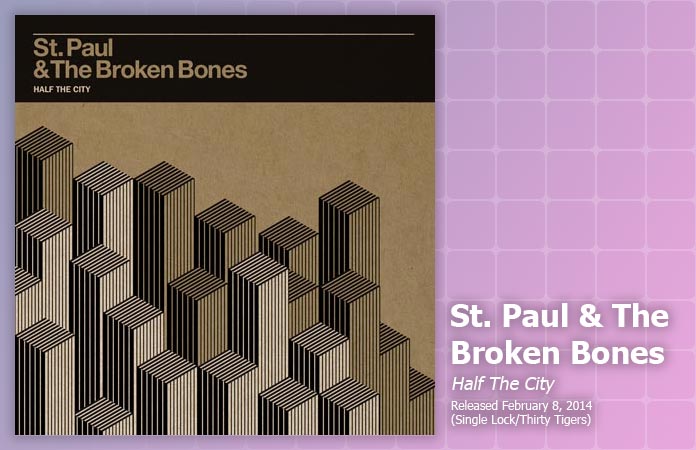 St. Paul & The Broken Bones' frontman Paul Janeway (St. Paul himself) was raised Pentecostal and studied to be a preacher. Upon hearing Half The City, one can only say, "Thank God it didn't pan out." Paul Janeway has the kind of voice that you'll read all kinds of hype about, and for once, that hype is true. The man sings like the second coming of Otis Redding and has a killer band to back him up. Hailing from Birmingham, Alabama, St. Paul & The Broken Bones tread the same sort of ground as Alabama Shakes (and Half The City is, in fact, produced by Alabama Shakes' Ben Tanner): soulful and bluesy, but with the added bonus of an amazing horn section.
The themes of love, loss, and heartbreak make a steady line throughout Half The City, as they do in any soul album worth its salt. On top of that, Half The City is a great sounding record: the horns are crisp, the drums are snappy, and Janeway's vocals fit perfectly in there. It's like a tidy ecosystem of soul.
St. Paul & The Broken Bones don't do a lot of tempo changes. Most songs are a steady, grindy mid tempo, like a classic soul record. They also seemingly have a formula: build, build, build in intensity, stop, quirky guitar break, then build, build, end. Is that some sort of classic blues/soul structure?
"I'm Torn Up" is a slow groove with punchy horns and organ backing them up. The passionate "Call Me" starts with a '70s jazz rock feel and swells to a great breakdown and Janeway's full blown James-Brown-with-Tourette's freak-out at the end. It's magnificent. "Like A Mighty River" is sexy and strutting and the verses have a great rhythm ("She is just a pure girl/I am just a dirty boy" scans so well). The slow, burning track "That Glow," with muted horns and dreamy guitar, is just the kind of song Sailor and Lula would dance to in Wild At Heart. There's such a gorgeous quality to Janeway's voice on "Grass Is Greener," a song about "sweet sugar thoughts" taken away. It's more subdued and less bombastic, like on the stunning, atmospheric closer "It's Midnight."
Half The City is an amazing debut. St. Paul & The Broken Bones spring forth as a fully formed entity with a richly realized sound. With a frontman who sings like a classic soul man and a horn section that flat swings, they're doing something new with something classic and it sounds wonderful.
Half The City was released on February 8 through Single Lock/Thirty Tigers.