Published on May 2nd, 2014 in: Current Faves, Music, Music Reviews, Reviews |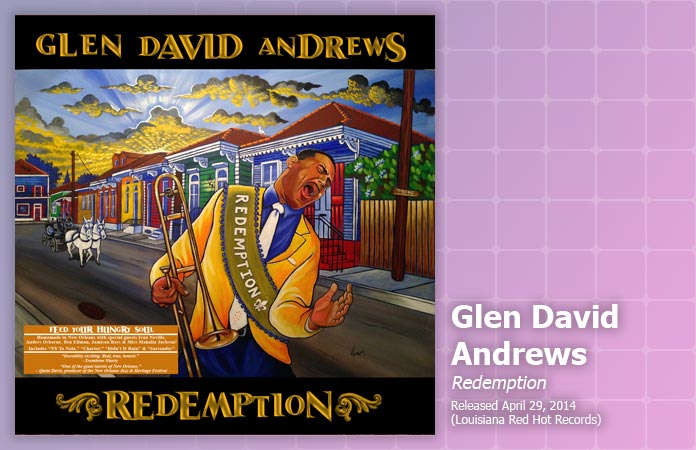 Glen David Andrews's Redemption is an album about a man who is on a journey. Having gone to rehab and still in the process of recovery and turning his life around and rebuilding his career, Andrews has documented this with the deeply personal and revealing Redemption. And while an album about recovery could be a heavy, less than fascinating listen, Andrews and his producer Leo Sacks turn up the funk, gospel, and goodness to make a very compelling record.
Redemption kicks off with "NY To Nola," a gritty look at addiction and redemption, driven by Galactic's Ben Ellman on harmonica and Glen David Andrews's own anguished bark. A cover of Gavin DeGraw's "Chariot" is given a smooth, soothing reading, with Andrews slipping into a vocalization not unlike a heartfelt preacher. His version of "Didn't It Rain" is bookended by samples of Mahalia Jackson's take, and is a thing of beauty: a stripped down, spare version with upright bass and his powerful voice. "Surrender" is a gorgeous duet with Jamison Ross, who matches Andrews's passion impressively on this song about finding the courage to change.
The funk is clearly brought in "Bad By Myself" with a tight bassline by Barry Stephenson and the addition of the great Ivan Neville on vocals. These two voices slug it out like titans, singing about taking responsibility for one's actions. Glen David Andrews turns in a blistering trombone solo. "Kool Breeze (Glen's Season)" is a fantastic instrumental with Andrews's truly fine band. Andrews, along with Rico Frog on trumpet and James Martin on sax, comprises an extraordinary horn section. "You Don't Know" made an appearance on Galactic's brilliant 2010 album Ya Ka May and is given a spin on Redemption as well. It's still funky and thrilling, but lacks the sonic gut punch of Galactic (and the Rebirth Brass Band). However, the guitar solo from Anders Osborne is audaciously grungy.
The final track, a cover of Curtis Mayfield's "Something To Believe In" is lovely. A simple arrangement of bass, bongos, tambourine, and voices, it's an open hearted, beautiful take. It's vulnerable and hopeful and an excellent way to close out the album.
Glen David Andrews has that indefinable "something"—raw talent, showmanship, charisma. You can hear it in his voice. Redemption feels like a classic album, one that will stand the test of time. It's magnificent and moving and wonderful. I'm glad he's around to share it.
Redemption was released on April 29 through Louisiana Red Hot Records.
Tour Dates:
Wed. Apr 30: New Orleans; The Little Gem Saloon
Fri. May 2: New Orleans; Three Muses
Sun. May 4: New Orleans; Jazz Festival – Congo Square Stage
Mon. May 5: New Orleans; Louisiana Music Factory
Sat. May 10: New Orleans; Crawfish Mambo
Sun. May 11: New Orleans; Royal Sonesta Hotel
Tue. May 27: Berkeley, CA; Cloud 9
Thu. May 29: Petaluma, CA: Zodiacs
Fri. May 30: San Francisco, CA; Boom Boom Room
Sat. May 31: Redway, CA; Summer Arts & Music Fest
Sun. June 1: Santa Cruz, CA: Moe's Alley
Fri. June 6: Amangansett, NY; The Hamptons at Stephen's Talkhouse
Sun. June 8: Lancaster, NY; Marion Court Room
Wed. June 11: New York, NY; Rockwood Music Hall
Thu. June 12: Fall River, MA; Narrows Center for the Arts
Sun. June 15: Albany, NY; Susies
Wed. June 18: New York, NY; Rockwood Music Hall
Fri. June 20: Somerville, MA; Johnny D's
Sat. June 21: Ashfield, MA; The Inn at Norton Hill
Sun. June 22: Worcester, MA; Canal District
Wed. June 25: New York, NY; Rockwood Music Hall
Sun. Sept 13: Biloxi, MI; Seafood Festival