Published on April 18th, 2014 in: Canadian Content, Current Faves, Music, Music Reviews, Reviews |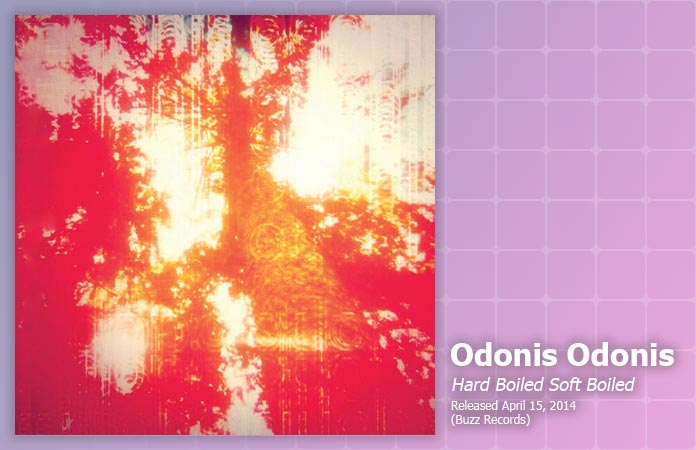 "Keep your halo tight until you choke us/But I would like to carry on"
—"Alexa Wait"
If you've been following the career of Toronto's Odonis Odonis, Hard Boiled Soft Boiled will be a mild revelation. It's way heavier and louder than the band's previous releases. The Surf Goth tones of Hollandaze and the Better EP are almost completely gone, or perhaps just sublimated within all those layers of noise. Yet, under the distortion and grime, there are brutally gripping melodies. Relying more on guitars and bass than synths, Hard Boiled Soft Boiled is a nightmarish vision of jangly, reverbed dream pop.
Odonis Odonis treads through various mid-'80s sounds and styles, from Ministry to Clan of Xymox; from late period Bauhaus to Tones On Tail. There's also a definite Nirvana thing going on. However, this isn't some homage to grunge or post-goth whatever. Although their influences feel wide-ranging and unexpected, Odonis Odonis are definitely self-possessed.
Odonis Odonis is actually singer/songwriter/multi-instrumentalist Dean Tzenos with a little help from his friends. Live, the band includes Jared Gibson and Denholm Whale, who are curiously not found on this album. I'm unfamiliar with the studio vs. live dynamics of the band but whatever Tzenos is doing, he's doing very well.
The album is divided into two sides like an old-school vinyl release. Side A opens with the instrumental "Tension" and closes with another instrumental called "Release." In between is music that berates your ears for existing while it rewards them for paying attention.
First, there's the surly, raunchy "Are We Friends" (you could give me oral/it might seem immoral) and "Order in the Court" which sounds like the internal build-up to external displays of rage. The hypnotic "New Obsession" is when the album's hooks start to get you. "Breathing Hard" is ominous, both musically and lyrically (you learned your lesson/you're breathing hard now/can't break a habit/you should have had some decency), but remarkably catchy.
Tzenos is a master at the bass guitar, whether it's sludgy or seismic, and Hard Boiled Soft Boiled shows off those skills. The bass in "Mr. Smith" trudges inside you, lumbers around, and doesn't let go. Especially when compared to the horror implied in the song's lyrics, that "ooooooh" chorus is particularly soothing.
How many different ways can I say "haunting?" I guess it's the downside of liking music that's, well, haunting, and "Angus Mountain" (which opens Side B) certainly is that, with a sharp contrast between programmed drums and guitar like fingers of creeping fire. At the end, the song turns into a sonic ode to drowning.
The (perhaps) ironically titled "Office Sluts" is all dissonance and discomfort, offset by somewhat less ear-splitting, emotionally affecting sonic textures and lyrics (I take your hand and it's over with). The pure science fiction of "High Note" is like an eerie short story set on Mars, all yearning yet hopeless, the perfect intro to "Transmissions From Mars" which tries to do for space what Japan's "The Experience of Swimming" did for bodies of water and nearly succeeds. Despite being more than six minutes long, "Alexa Wait" doesn't drag on, evolving slowly like a sinister twist on the Jesus and Mary Chain's "Just Like Honey" before it turns into crisp programmed drums and spoken words, with that same keening wail from the beginning in the background.
While the press release indicates that the first half of the album is harder-edged than the gauzier second half, there's a sense of unease throughout all these songs. Hard Boiled Soft Boiled isn't an album divided into two parts, it's two halves of the same whole, a welcome reminder that in beauty there is pain and in pain, beauty.
Hard Boiled Soft Boiled was released by Buzz Records on April 15 and can be purchased via digital download or on silk-screened vinyl from the label's Bandcamp.
Tour Dates:
April 18 Athens, GA – World Famous
April 20 Baton Rouge, LA – Mud And Water
April 21 Austin, TX – Mohawk (Inside)
April 22 Dallas, TX – Club Dada
April 25 Chicago, IL – Bottom Lounge
June 19-20 Toronto, ON – NXNE