Published on April 11th, 2014 in: Comedy, Horror, Movie Reviews, Movies, Retrovirus, Reviews, VHS, VHS Visions |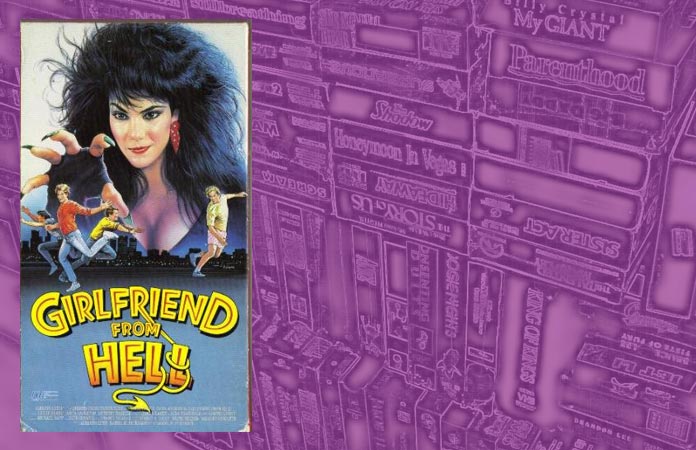 Girlfriend From Hell might have been released in 1990 but it has the '80s written all over it. With its '80s-sounding soundtrack and ridiculous comedic aspects, it falls into place with many other gems from back then but still holds up today.
The movie also has one hell of a cast consisting of James Karen (Return Of The Living Dead), Dana Ashbrook (Return Of The Living Dead Part 2), Liane Curtis (Critters 2), James Daughton (Animal House), and many more. Your typical person might rack his or her brain trying to figure out who these people are but these people are huge stars in my eyes.
Girlfriend From Hell takes place at a birthday party where our star Maggie (Curtis) is on a blind date with a guy. During this time The Devil is on the run from God's "Chaser" (Ashbrook) and crashes the party, inhabiting our precious Maggie. Maggie is homely and awkward but once she gets possessed she becomes a complete knockout; this is a tool many films still use today. Well, not the possessed part, but the part where once the girl takes off her glasses or lets down her hair she becomes a totally different looking person. In this case The Devil is a fox and I wouldn't mind if she tried to possess me.
This film is wicked as hell as well (no pun intended) and legitimately funny . . . for the '90s, anyway. The soundtrack is lacking but decent and I imagine that's due to the budget. In a movie like this, the soundtrack should have been less forgettable. Girlfriend From Hell does have some memorable moments and scenes that I would tell others about when I was a kid. The downside to that was no one knew what the hell I was talking about. Because this is a lost comedy, that still happens to this day and it breaks my heart.
I first caught this film on TV way back in the day and fell in love instantly. It took me a while to track it down on VHS, mainly because I would always forget the title when I was little. Girlfriend From Hell is another film you can probably fork over 15 bucks for on a used VHS tape or watch on YouTube. Either way, it's worth it. Just the part where the gang goes to beat up Maggie and David in the alley, the lobster scene, and the nuns are enough to make it worthwhile.
Girlfriend From Hell is another lost treasure that deserves a decent release. It would easily become a cult classic comedy. Films like this make me want to start a distribution company to release all the films that are featured on these VHS Visions segments. We need more companies to release older films because we are running out of time for the life of these films and also, I need to see Liane Curtis in HD.