Published on March 28th, 2014 in: Listicles, Music, Top Five Lists, Waxing Nostalgic |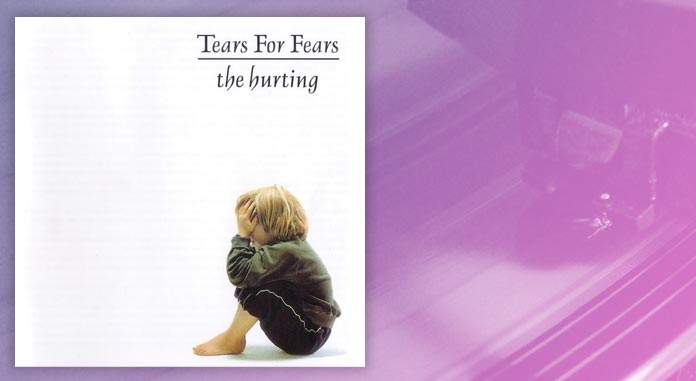 I've been writing this column for a year now, completely immersing myself in coming up with new words about old music. A lot of it, frankly, just doesn't hold up. It's the aural equivalent of parachute pants. Why did we like it? Why did we buy it? What were we thinking? Were we all mad? Nobody would be caught dead in parachute pants these days.
Some bands still make the grade, though, and are still insanely listenable after all these years. Following are the bands I implore you to listen to again, or maybe for the first time.
Tears for Fears: While the deceptively cheerful "Everybody Wants to Rule the World" may have been their biggest hit, Tears for Fears was perhaps the deepest, most intelligent band of the decade. Taking their name from an aspect of primal therapy, a branch of psychology, core members Roland Orzabal and Curt Smith explored not only their own tortured psyches, but also the shattered spirits of a generation of latchkey kids left to raise themselves. Song titles like "Suffer the Children," "Start of the Breakdown," and "Shout" let you know you're not going to be in for a good time, and yet something about the music radiates with a dark hope. There are hints at the light at the end of the tunnel, even if that light is not in the visible spectrum. Tears for Fears never promised any sort of healing, simply an understanding, a surrogate shoulder to cry on, and the perfect music for the broken.
'til tuesday: Before becoming Paul Thomas Anderson's muse for Magnolia, Aimee Mann was the rat-tail wearing leader of the uncapitalized Boston band, 'til tuesday. She was the anti-Cyndi Lauper at the time, and the band's songs weren't about girls wanting to have fun. They were about girls wanting to be recognized as people, autonomous beings, sentient beings whose eyes are up here. Mann's husky voice and soothing delivery make the songs of disappointment and disaffection easy to listen to. It's not until later that you find the barbs in the lyrics, the whispered rage, the singular isolation found only when you're lonely but not alone.

Crowded House: Neil Finn is an institution in Australia and New Zealand. In North America, not so much, and that's a damned shame. Finn-led project Crowded House had a worldwide hit with 1986's "Don't Dream It's Over," a sweet little pop song which was perfect for breaking up with your high school sweetheart before going off to university. Other releases didn't fare so well on this side of the world. Their whole catalog is redolent with quirky pop ("Kill Eye," from their second album, Temple of Low Men, is brutally weird) and beautiful songs of mourning. The landscape of the band changed tragically after the suicide of original drummer Paul Hester, and that shock and sadness informed Finn's songwriting from that point forward. Insightful and often unbearably human, Crowded House remains an undiscovered treasure for many.
Shriekback: When my wife and I moved in together, we had between us three copies of Shriekback's 1985 opus, Oil and Gold (we had five copies of The Cure's Disintegration betwixt us, so the Shriekback thing came as no surprise). I've never been a giant fan of dance bands, never spent my nights clubbing or anything like that, but there was something about Shriekback that was different. Maybe it was the dystopian lyrics about strange funereal rituals in a post-technological landscape. It may have been the underlying absurdity of it all, yammering on about hammerheads and coelacanths and providing what may be the first usage of the word, "parthenogenesis" in a dance tune. The real appeal was probably how hard the band rocked. Certainly peppier than their contemporaries, Depeche Mode, while not raising the kind of goose-stepping klaxon of Nitzer Ebb, Shriekback occupied a special place in the music world. It was music for the end of the world, Barbelith come down, the soundtrack for humanity's final dance-off.
Midnight Oil: From their skittery punk/surf origins to their worldwide chart hit, "Beds Are Burning," Midnight Oil was unique among Australian bands. Their sound was unmistakable. Lead singer Peter Garrett's voice, a growling, thickly accented baritone, was an instant attention getter. Their fearlessness in approaching political issues, both internationally and on their homefront, was controversial, echoing "Guns of Brixton" era Clash in its forthrightness. Even if one wasn't sure what the songs were about, the music made you want to learn, want to care. There was passion in their music, combined with an embittered idealism, which not only captured that moment in time, but also presaged current events. "Harrisburg" may have been about the nuclear accident at Three Mile Island, but it could just as easily be about Chernobyl or the Fukushima Daiichi disaster. We still face most of the issues Midnight Oil addressed so urgently over 30 years ago. That alone merits a new evaluation of their music, protest songs for the cocaine generation still applicable to the Adderal age.
Tears for Fears, Shriekback, and Crowded House are still active bands as of this writing. The last Tears for Fears album was an outstanding, almost psychedelic, piece of work. Crowded House's catalog has just grown richer and stronger, with Neil Finn writing some of the best songs of his career within the last seven years. Just because a band is "old" doesn't mean they aren't still doing quality work. Take some time and see what your favorite "old" band is doing. You could be pleasantly surprised.
Check out some deep cuts from those Eighties bands you should still be listening to and even more music from the past year of Waxing Nostalgic on our exclusive Spotify playlist! From the Sixties to the Aughts, there's always a musical surprise waiting for you!