Published on March 28th, 2014 in: Horror, Movie Reviews, Movies, Retrovirus, Reviews, VHS, VHS Visions |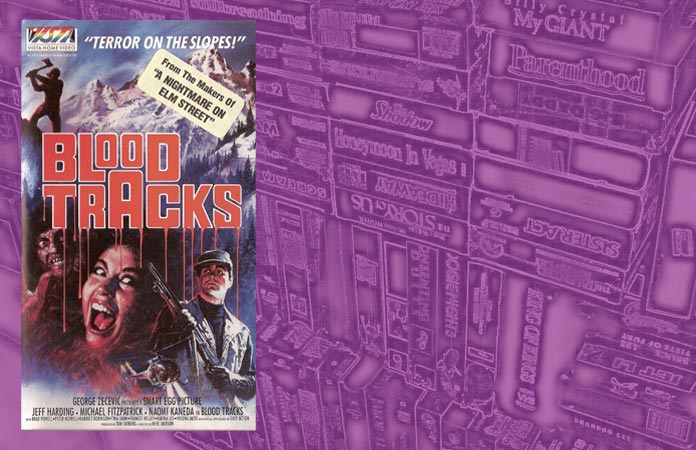 After Alien came out, we received rip-off after rip-off (mostly all good films, though) and the same thing followed after The Terminator was released. Hell, I'll admit there were a ton of films from the '80s that copied others because of the success of Hollywood blockbusters during that time.
After the release of The Hills Have Eyes there were a few films with the same likeness and concept but a different setting. Frankly, I couldn't care less because most of these films were fantastic. Some of them are still my favorites and that includes the film Blood Tracks. Blood Tracks borrows many of the same elements of The Hills Have Eyes except it is set in the snow and the characters that get slashed to bits are a rock band called Solid Gold (Swedish band Easy Action) and their groupies.
Solid Gold wants to film their next hit video on a mountaintop. With a film crew in hand and many ladies surrounding them, they are hunted by a family of killers that live in a nearby abandoned building. During the shoot an avalanche cuts them off from any means of help or escaping . . . I'm guessing you can expect what happens next.
Blood Tracks always gets pooped on but I've been a fan for a long time. I'm not sure if it is because I was really young when I first saw it and it's a nostalgia thing or if I legitimately believe it is a good film. Of course, it is goofy just like most of these films in VHS Visions but there are many fans of these cornball horror films. Most of the films in VHS Visions are goofy but it doesn't mean they aren't good. Is Blood Tracks a good movie? Probably not, but that doesn't mean it can't be enjoyed on a goofy level and I guess that's why I'm such a big fan of it.
Did I mention it features one hell of a kickass song? It does and it's sad that you can't find it anywhere except on YouTube. It has over 17,000 views and I'm sure 10,000 of those are mine. I will continue to watch that video for years to come. Also Blood Tracks does seem like part of it was shot-on-video but I can't be certain, which gives it a certain kick.
Blood Tracks is maybe a little harder to track down than other VHS movies, but it's not impossible. If you like the types of films that deal with the backwoods/cannibal bullshit you will enjoy this one. Hopefully more people will discover this lost gem. And if you actually like this I would love to know that you do; I think I'm usually alone on this one. I admit it does get a little slow half way through the movie but it's still fun for the most part.