Published on March 28th, 2014 in: Canadian Content, Current Faves, Feminism, Music, Music Reviews, Reviews |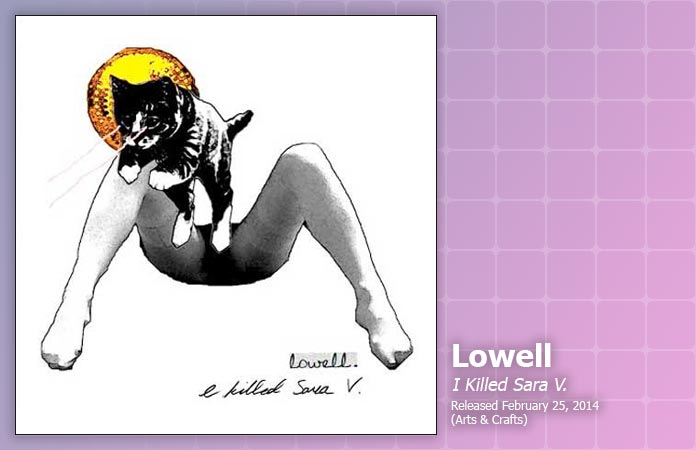 Toronto and London-based Lowell has the kind of voice that veers dangerously close to being exploited in an iTunes commercial. Which is why it's significant that her new EP I Killed Sara V. opens with the blisteringly original "Cloud 69." That music and those lyrics could never be used to sell hybrid cars. The crush of percussion and synths and the descending "oooooh" in the chorus make the heart pound faster. It's an extraordinary song and unlike anything else I've heard.
"The Bells" includes yes, bells, a hip hop drum beat, and the most unbelievably hooky chorus. The blend of the wordless vocal bridge and the main riff along with the rearranged line "hey, where did the beat go?" feels clever on an emotional level.
Lowell sings from the points of view of different genders and various places on the sexuality spectrum, with the kind of lyrics that are provocative, political, and enticingly obtuse. Consider: "Sunshine, all my good times are under you/kiss my lips I'm golden falling into you" from the happy yet heavy "Palm Trees" and its surprisingly melancholy piano outro. This kind of contrast and synthesis is also present on the joyful "88," ostensibly about infidelity, with a moody bridge that seems to underscore that there's much more going on here.
The music throughout the EP is densely layered, yet airy, with a mixture of instruments and textures that make it impossible to pigeonhole. Most impressive is Lowell's voice. It's supple and pure, going from angelic to world weary to piercing within seconds, thanks to a remarkable knack for self-harmonizing through overdubs.
Certainly the story contained within the title track "I Killed Sara V." is just a slice of something deeper and darker, with enough evocative imagery to fill a film noir, and the echoey piano intro combined with Lowell's whispery croon underscores this. The implied homonym of "c'est la vie" that peeks through the chorus can't be an accident, although the real profundity is in the final lyric. "I think too bad nearly everyone who can buy my record has the money to keep themselves from knowing that the truth is that you get rich and everyone else just lies beneath you."
I Killed Sara V. is a strikingly original work from someone with a lot to say and a unique way of saying it. There's only one flaw with these songs: there aren't enough of them on this EP. I'm already jonesing for Lowell's next release.
I Killed Sara V. was released on February 25 from Arts & Crafts.