Published on March 28th, 2014 in: Current Faves, Documentaries, DVD, DVD/Blu-Ray Reviews, Feminism, Movie Reviews, Movies, Music, Reviews |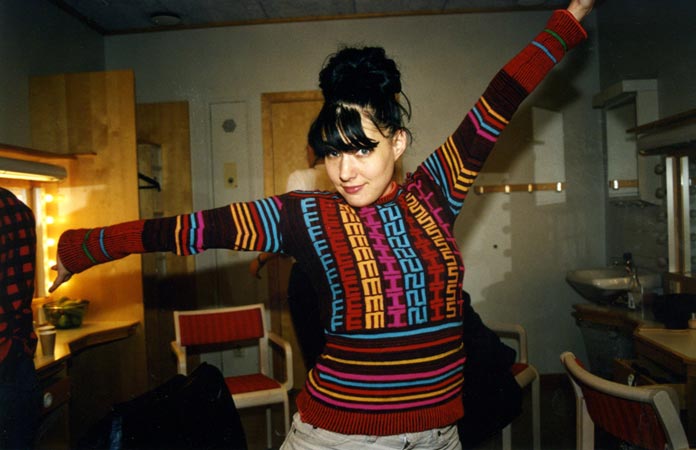 Kathleen Hanna was my dream girl growing up. It all started when I went to a record store and found a copy of Reject All American by Bikini Kill. I had no clue what it was but the cover intrigued me. I gave it a shot because it only had a 99-cent price tag.
I left the store with a few CDs that day (mostly punk) and listened to them throughout the rest of the week, but that night I popped that one in and it did a number on me. First, it sounded completely badass. It was raw and ferocious. The lyrics were well thought out and this girl singer was not fucking around. Between "Rebel Girl" and "Statement of Vindication," this was the best album that I'd heard in years. I immediately found out who Kathleen Hanna was and tracked down everything she put her hands into.
I may be the only dude who is obsessed with Kathleen Hanna but her story is huge on such a small scale. This woman has done so much in her career and has overcome so many obstacles in her life, both personal and professional, so she deserves all the awards. All of the awards.
The Punk Singer is a new documentary that tells the world her story and the battles she faces today. Kathleen Hanna has a lot to say in this hour and a half movie but she could have gone on for countless hours while I sat there with a smile on my face and tears in my eyes.
This film is such an intimate portrait of Kathleen Hanna's life. We don't just get her past and what she has done; she also takes us deep into her current life and the problems she faces. We see the actual battles and the heartaches she goes through on such a profound level that it will leave you breathless and wiping the tears from your face because you can feel the pain through the screen.
When you see such a fearless woman who has been through hell and back break down in front of you and come to terms with something so terrible, it literally breaks your heart into two. But she also molds it back together because she doesn't give up. Kathleen Hanna give up? Yeah, right.
Kathleen Hanna is a God, a rebel, a beautiful woman, and one hell of a performer who gives it her all every damn time. From Bikini Kill and Le Tigre to The Julie Ruin she puts 100% of herself into her music. It's so much more than music with Kathleen Hanna; it's so personal on every level and there is so much meaning behind each and every song she writes and records.
Whether you are a fan of Kathleen Hanna or not, The Punk Singer is for everyone. You could go into the movie not knowing anything about the subject but you will leave like you actually know Kathleen Hanna. That's how personal this documentary is.
The Punk Singer was released on DVD by IFC Films on March 25.