Published on March 21st, 2014 in: Listicles, Music, Top Five Lists, Waxing Nostalgic |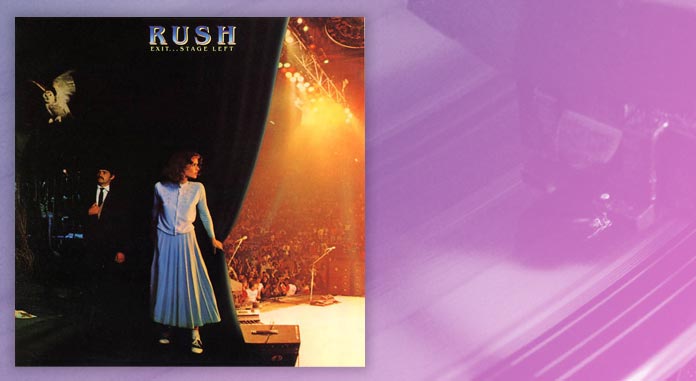 I've talked to people who can't get into live albums. The recording is rarely clean. The crowd noise can be a distraction. It's obvious when someone screws up. They don't like to hear the in-between song banter.
I understand how those things could detract from one's enjoyment of the music, but man, when a live album is done right, it's pure dynamite. That aural snapshot of a band at a specific point in time fascinates me. It's a time capsule. When the crowd is into it, clapping and screaming at all the right times, a live album is truly the next best thing to being there.
In chronological order, here are some live albums from older artists that stay on rotation in my personal earholes.
Exit . . . Stage Left, Rush (1981): A combination of recordings taken from both the Permanent Waves and Moving Pictures tours, this is Rush at the height of their triumph and exuberance. The hits most casual Rush fans will want to hear are included. You'll get "Tom Sawyer" and "The Spirit of Radio." But the real highlight here is a version of the instrumental "YYZ" that runs almost eight minutes long, due to a mind-blowingly incredible drum solo by Neil Peart. You'll believe the man has eight arms.
Arena, Duran Duran (1984): Sure, I remember the complaints about this album not being "really live" when it was released. And okay, there may be a few studio overdubs here and there. I also agree that the crowd noise should have been louder, with thousands of pubescent girls getting funny feelings in their poodle skirts while lusting after their favorite members of the band. But I still count it as a live album, and I tend to like it for the reasons others hate it. It isn't a hit-filled playlist. The muted crowd works in this case, for the most part. We wouldn't have been able to hear the band if the studio had left it alone. My favorite tracks are the rather soulful version of "New Religion" and the beautiful and overlooked "The Seventh Stranger."
Live After Death, Iron Maiden (1985): Regular readers shouldn't be surprised by this entry. This is the album that got me into Maiden, and it is a tremendous indicator of just how rawk-hungry audiences in the Eighties were. Bruce Dickinson whips Long Beach Arena into a frenzy with songs about World War I movies, Egyptians, and a paraphrasing of "Rime of the Ancient Mariner." Seriously. The stuff of lectures you fell asleep during are now rock epics. Check out "The Trooper" and "Flight of Icarus" for pure live rock gold.
Rank, The Smiths (1988): The animosity between members of The Smiths is well documented and filled with lawsuits and legendary snark. They despise each other for the most part. This album shows how powerful of a live band they were while they were still together and talking to each other. Johnny Marr and the boys have a grand time, starting one Smiths song only to switch gears completely and zoom into another. Morrissey croons and swoons his way through the set, a fey Elvis, his vocal gymnastics in top form. Make sure to listen to "The Draize Train," an instrumental track not recorded elsewhere, and the quick little run-through of "His Latest Flame."
The Joke Is Always On Us, Sometimes, Sugar (1995): Originally released as a bonus disc in the first 25,000 copies of their B-sides CD, Besides, this is a long-lamented band at their brutal best. Bob Mould leads his power trio through some of the band's lesser-known material. You can almost smell the sweat and the fear created by Mould's angst, Malcolm Travis's monstrous drumming, and the heartbeat-insistent bass of David Barbe. It's a rough, exhausting listen, not perfect in any way, which is how a show like this should be captured. It wasn't recorded as much as it was chiseled. Premium cuts include a blistering version of "JC Auto" and a cover of The Who's "Armenia City in the Sky."
Groove on some sweet live tracks and other music mentioned in this column on our Waxing Nostalgic Spotify playlist! You'll find all kinds of tunes for practically every situation there is, and it's free! Subscribe, why don't you?