Published on March 21st, 2014 in: Horror, Movie Reviews, Movies, Retrovirus, Reviews, VHS, VHS Visions |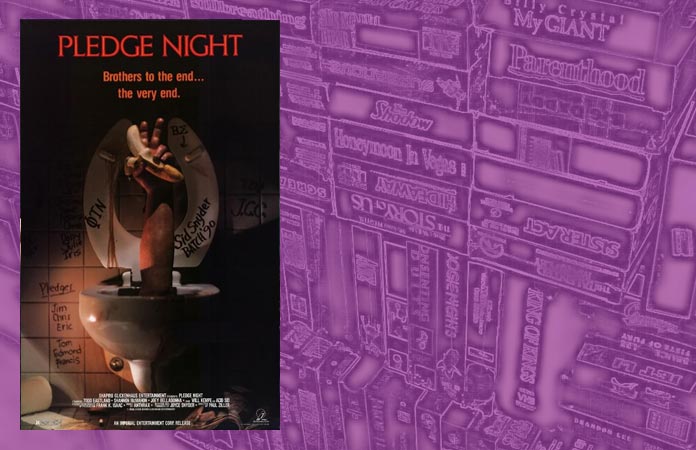 Would you want to see a '90s supernatural slasher flick with a soundtrack by Anthrax? Well, you're in luck: it does exist and it is called Pledge Night.
VHS Visions brings you the films that have slipped past you and are now forgotten because of the lack of a DVD or Blu-Ray release. A few of the films that are featured in this segment might have had an overseas release with a shitty transfer or they've been released on some kind of mega-pack of DVDs from a VHS transfer. I don't consider either of these an official or proper release so they don't count. With these entries, VHS is the best way to view these films. They should be tracked down and kept alive.
Pledge Night is one of the more rare slashers out there, but it is one of the better ones as well. What starts off as a college initiation for some new fraternity brothers turns bloody when they discover that the frat house has a little history. Back in the day, some fraternity brothers were doing an initiation and accidentally murdered one of their pledges, Sid. Now Sid is back and he is going to make their Hell Week a living . . . ummm . . . hell? Yeah, Hell!
If you put Animal House and Slaughter High in a blender with a little bit of acid you would get Pledge Night. It starts out as a comedy with our pledges doing ridiculous and gross activities and then turns into a downward spiral nightmare with a kickass soundtrack by Anthrax. The film is at the top of its game in terms of the special effects and kills. They stand out from the rest of the cheesy looking practical effects from the time period.
Just about everything in Pledge Night is solid. The only thing that sticks out is that the movie is a lot stronger before Sid actually shows up. That may sound a little odd because in most films we wait for the bad guy to show up, but in this flick it's a little more enjoyable before all of the hectic killing happens. It also has a weird freaking ending that I still don't understand at all, but that is half the fun when it comes to films like this.
Pledge Night deserves a proper release because it has a great soundtrack and the special effects look superb. It would be beautiful to see this film in HD and maybe even on the big screen, but the chances of that happening are slim. But that is exactly why this column exists: to spread the word of such "lost" films.