Published on March 21st, 2014 in: Current Faves, Music, Music Reviews, Retrovirus, Reviews |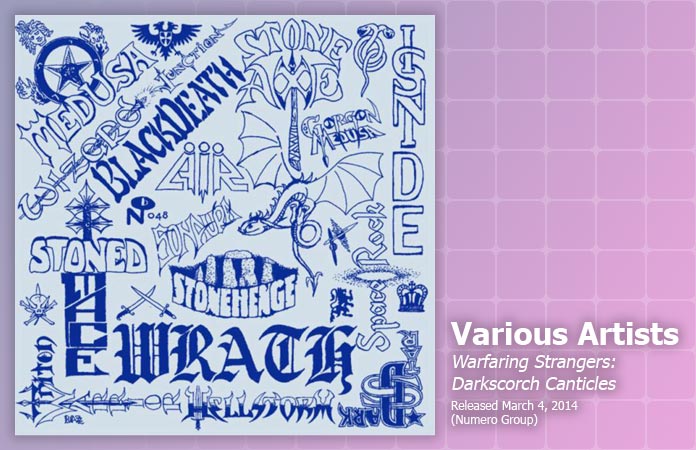 The earth is scorched and jagged, and at night the wolves come. The Christian gods have come to battle the Elder gods for supremacy, but that war has yet to be won. Every move could be your last, for the land is beset with traps. This is a land of magick and superstition. This is where the arcane is commonplace. This is a land filled with thieves and sorcerers, warriors and demons. This is the 1970s.
This is the strange world of Warfaring Strangers: Darkscorch Canticles, a collection of 16 rock and roll songs, plucked from the dank dungeons of obscurity by record label Numero Group. Every song is based in a quasi-Tolkienesque fantasy world, easily recognizable to anyone familiar with Dungeons & Dragons or other such tabletop games. In fact, the double vinyl edition comes with its own RPG called "Cities of Darkscorch."
With band names like Arrogance, Wrath, and Triton Warrior, one could be forgiven for thinking this is an album of Nordic doom metal, replete with down-tuned guitars and lead singers wearing corpse paint. Instead, the listener receives a glimpse into what happened to rock and roll when Black Sabbath was unleashed onto the FM airwaves.
This album is chock-full of high class, lo-fi, psychedelic sludge blues. There's apocalyptic imagery galore, lyrics that read like an incantational MadLibs game, and reverbed vocals against flatly recorded floor toms. It's everything one would imagine 1971 sounded like, through the gurgle of the bongwater.
The album starts with "Twelve O'Clock Satanial" by Air (not the French electronica duo), which acts as a pipe-organ heavy invocation to the darkness spreading through the rest of the album. The collection gives us songs about Satan ("Warlord" by Wrath) and Sauron ("Song of Sauron" by Sonaura), slaves and sorcerers, and great titles like "King of the Golden Hall" by a band called Stonehenge and "Cry for the Newborn" by Hellstorm.
It's all pretty heavy stuff, even when it borders on ludicrous. But sometimes, the theatricality of it all turns into something close to genius. The song, "Séance" by Wizard, would make King Diamond proud. "Bring on the séance and be enlightened!" the singer cries over a jacked-up eight-bar blues progression. It's an invitation to the creepy dance, all right, with the bare bones story of a mother encouraging her son to contact the dead making up the lyrical content. It has the feel of the first tune in a cycle of songs, and by the time it ends in a maelstrom of instrumental destruction, the listener is ready to find out what happens next.
Space Rock's "Dark Days" could be considered the weakest track of all 16, but within the context of the album as a whole, it certainly has its place.
If there's an issue with Warfaring Strangers: Darkscorch Canticles, it is a matter of being too niche. Here's an album designed for tabletop gamers who enjoy underground metal from the early to mid-Seventies, preferably ones who smoke a lot of pot and don't mind summoning Satan every once in a while. This works for me. It may not work so well for you.
But if you're interested in rock history, particularly that strange transitional period where psychedelia died and metal eased into its place, it will be worth your while to pick up these Strangers and let them join your heroic quest.
Warfaring Strangers: Darkscorch Canticles was released on March 4 via Numero Group.