Published on March 21st, 2014 in: Current Faves, Music, Music Reviews, Reviews |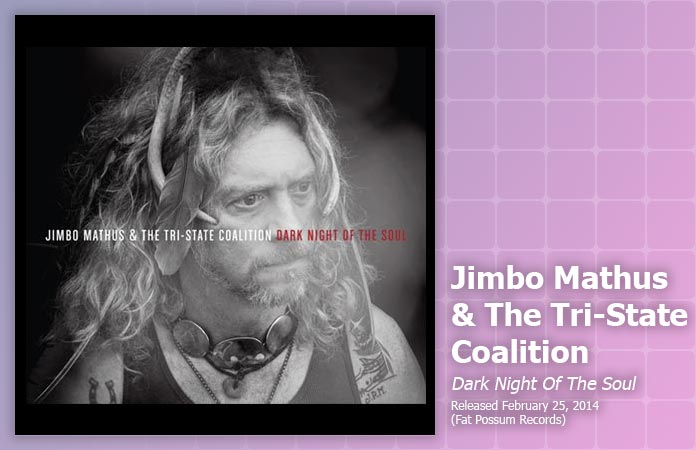 As the leader of the Squirrel Nut Zippers, Jimbo Mathus trafficked in swing, Delta blues, klezmer, and Dixieland jazz, blending them to make something not easily defined, but easily identified. On his own, Mathus makes music that draws upon his rich musical knowledge and is deeply rooted in the South.
They say you can't judge a book by its cover, but you can often judge a record by its cover art. Dark Night Of The Soul sports a photo of Mathus in full pagan swamp god regalia, complete with horns and feathers in his hair. The album sounds like that, and that's really a very good thing.
Recorded over the course of nearly a year at Dial Back Sound Studio, conveniently located near Mathus's home in Mississippi, Dark Night Of The Soul has the sound of an album that was allowed to marinate and grow. The songs flow together nicely, creating a definite atmosphere. These could be the songs your older brother played on his 8-track player in his Chevy Nova. Which is not to say that they're self-consciously retro. Rather, these are timeless songs.
The title track is almost biblical in scope with Mathus's passionate, raspy croon yearning over swaggering guitar. That biblical feeling rears again on "Burn The Ships," with the repeated motif of "He who lives by the sword/dies by the sword" and name-checking Nero. "Writing Spider" is a look to Mathus's past and a paean to faith, noting that Jesus "took the blame for everything/even the original sin," which could be heavy-handed. Instead, it becomes heartfelt and wrenchingly honest.
The rawness of Mathus's voice and the cohesiveness of his band The Tri-State Coalition hit a sweet spot on "Hawkeye Jordan," a song about an old hillbilly who makes "foldin' money" selling reefer and moonshine and "if he can't help you/he won't hurt you none." It's like the seedy underbelly of Roger Miller's "Dang Me" if only rhythmically. His take on the legend of Casey Jones, "Casey Caught The Cannonball," written using facts he found on a roadside marker, is a slide guitar wonderland with honky tonk piano. "Fire In The Canebrake" slips into muscular rootsy funk to tell a story of a man "shot down like a dog for the color of his skin." "Tallahatchie" is appropriately swampy and makes drowning and disappearing sound like a not terribly bad idea.
The echoey vocal and sparse production of "Medicine" are effective, highlighting the hopelessness and alienation of the junkie narrator's position. The album ends with the creepy and beautiful "Butcher Bird." Mathus's ravaged vocals are especially compelling on this angular and unusual track.
Over the holidays, I bought a two-disc compilation called Delta Swamp Rock Volume 2—More Sounds From The South. Dark Night Of The Soul could be added as disc three without missing a beat. With songs like "White Angel" (that could be a lost Allman Brothers track) or the sweet love song "Shine Like A Diamond" (complete with "Sha-la-la's" at the end), Jimbo Mathus & The Tri-State Coalition embrace their Southern roots and make a record that is ageless.
Dark Night Of The Soul was released by Fat Possum Records on February 15.