Published on March 14th, 2014 in: Music, Music Reviews, Retrovirus, Reviews |
By Cait Brennan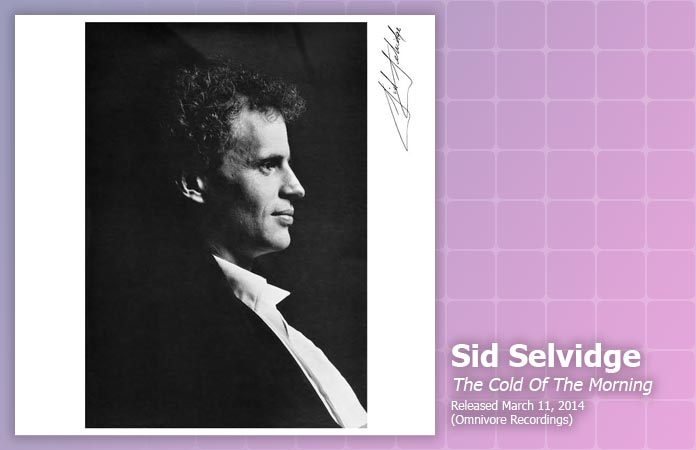 The great Memphis folk blues legend Sid Selvidge, who we lost last year, left us so much treasure that it almost seems criminal to try to lay the "great lost masterpiece" idea on him. While he surely didn't get all the recognition he deserved in his lifetime, most everything he brought us was its own masterpiece. But The Cold Of The Morning, his long-unavailable 1976 album, just might be his finest.
Like an American Bert Jansch, Sid Selvidge masterfully combined folk, blues, and traditional music influences with his own gifted songwriting and formidable guitar skills. While Jansch's voice has its earthy charm, though, Sid's voice is damn near transcendent. His debut album, 1969's Portrait, introduced his rich, golden vocals and guitar style over some fine folk-blues covers and lovely originals by Don Nix. Sure, it's got more strings on it than Cowboy Jack put on those early Townes Van Zandt records, and sans any Selvidge originals, by all accounts Sid never fully embraced it. Give it a listen sometime, though, and you just might—it's a charmer, and a nice taste of things to come.
Portrait's modest success led to a recording deal with Elektra, and while that deal failed to pan out, it kicked off a chain of events that led Selvidge to record his most acclaimed album. Produced by the mighty James Luther Dickinson, The Cold Of The Morning is a stripped-down 12-track song cycle recorded live in the studio, capturing warm and intimate performances from Selvidge on vocals and guitar, with appearances from Dickinson on piano as well as Lee Baker and Jimmy Crosthwait (a.k.a. Mud Boy and the Neutrons) on two tracks.
From the opening tune, "I've Got A Secret (Didn't We Shake Sugaree)," Selvidge's expressive, transcendent vocals and deft fretwork draw you in and completely transport you; shimmering originals like "Frank's Tune" and "The Outlaw" showcase Selvidge's gifts as a songwriter and storyteller, while he puts on a master class in blues history with traditional field hollers and work songs like "Boll Weevil" and "Lazarus". Then there are just beautiful gems like the delicate "Many A Mile" and the jazz age Tin Pan Alley classic "I Get The Blues When It Rains." The range of material is extraordinary, like rediscovering a long-lost Great American Songbook. The wistful "Miss The Mississippi And You" closes the original album with one of Sid's most lithe, beautiful vocal performances, worth the price of admission on its own.
Bizarrely, immediately after finishing this wonderful record, the record label's backer ceased backing, and Selvidge drove to the pressing plant, picked up the just-pressed vinyl LPs, loaded them in his car, and distributed them himself as best he could. It was enough to get him a residency at a club in Manhattan, glowing coverage in the New York Times, and to cement the album's reputation as a masterpiece, even as time made it harder and harder to find. Thankfully, the good folks at Omnivore Recordings specialize at just this sort of musical search and rescue, and they've done an ace job here.
The record was lovingly co-produced for reissue by Omnivore's Cheryl Pawelski and Sid's son Steve Selvidge of the Hold Steady; Bob Mehr's extensive, thoughtful liner notes frame the album and Selvidge's musical journey through all its twists and turns, covering his life and providing rare insight into Selvidge's other fine albums in the process.
The bonus tracks on The Cold Of The Morning are a delight. Selvidge's take on Fred Kirby's 1946 nuclear-age blues "Atomic Power" is dynamite, Sid's "East St. Louis Blues" is sultry Delta magic, and "Ain't Nobody's Business" sends things out on a high note. Perhaps the most fun of the extras is an alternate take of "Wished I Had A Dime," featuring Mud Boy and the Neutrons.
Available on a downright mesmerizing 12-track blue vinyl (it's practically TARDIS blue, for you timelords in the audience) as well as a deluxe CD package, The Cold Of The Morning is finally getting the presentation that the wonderful sounds inside deserve. It is indeed a great lost masterpiece, now found again, and sounding better than ever. Savor it, and put this music into the hands of people you love. And then don't let this be your only stop in the Sid Selvidge aisle. Flip through those bins and get yourself a copy of Portrait, Waiting For A Train, I Should Be Blue, Twice Told Tales, and A Little Bit Of Rain while you're at it. Sid left us a world of gorgeous music. Start with The Cold Of The Morning and get exploring.
The Cold Of The Morning was released on March 11 through Omnivore Recordings.