Published on March 14th, 2014 in: Current Faves, Movie Reviews, Movies, Reviews |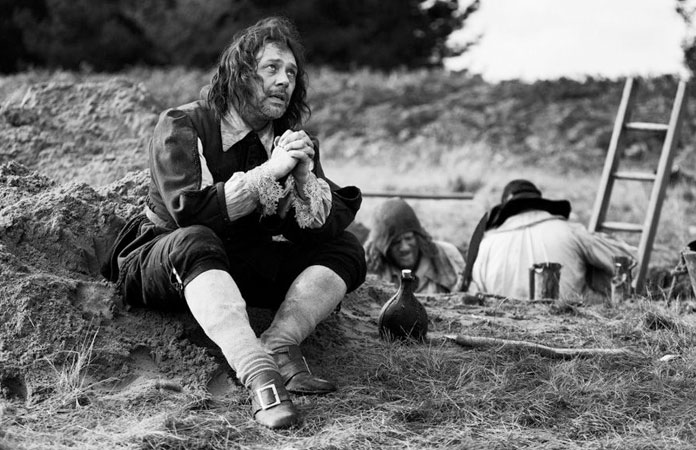 Reviewing a film like A Field In England almost feels impossible and insulting. While it takes place during the English Civil War of the late 17th century, a historical drama it is not. It is a Ben Wheatley movie and if you've seen his others (Sightseers, Kill List, Down Terrace), you'll know that means you're in for something entirely different than a standard cinematic experience.
In A Field In England, there is no redundant exposition, no constant repetition of character names, no lazy flashbacks. It's a punch to the face of those kinds of movies. The plot is simple yet confounding and less relevant than everything else that takes place. Four somewhat unwilling horsemen of a possible apocalypse (Whitehead, Cutler, Friend, and Jacob) are being tormented into serving the needs of O'Neil, a self-centered, nefarious sort whose low character can't be masked by his outlandish dress.
Despite being filmed in black and white, the film is an overwhelming, immersive experience, from the explosions and drumbeats that we hear while the production company logos are still flashing on the screen, to the periods of utter, unnerving silence. Wheatley and DP Laurie Rose showed us some amazing vistas in Sightseers, but A Field In England is stereoscopic by comparison. We sit in awe of both unending, unyielding skies and the droplets of mist on a tiny spiderweb, which may be a comment on the trap in which the film's protagonists find themselves. It is everything and nothing at once.
Although A Field In England offers much subtle and outlandish humor, it's not a comedy. Nor is it a drama, or a horror film. Yet, there is horror, unexpected and profoundly upsetting. From the unseen (Whitehead's appalling shrieks and the distress of Friend and Jacob are the only evidence) to the visage from which you wish you could avert your eyes (the only thing worse than Whitehead's grinning grimace is the possibility that he might look directly at the camera), A Field In England is dreadful, indeed.
Much is unexplained. What is O'Neil looking for? Where did he come from? What really happened to Friend (and Jacob, for that matter)? And what is that terrifying, squirming mass threatening to blot out the sky? Ultimately, the viewer is left to come to his or her own conclusions. That's possibly the greatest achievement for a filmmaker in an era of omniscient surveillance, the kind both forced upon us as well as that to which we gleefully contribute. A Field In England is a bewildering, unforgettable, and indisputable triumph.
A Field In England screened at the Toronto International Film Festival in 2013. It opens at The Royal in Toronto tonight at 9:00 p.m. and will be screening there throughout the month of March.