Published on February 28th, 2014 in: Blu-Ray, DVD/Blu-Ray Reviews, Movie Reviews, Movies, Retrovirus, Reviews |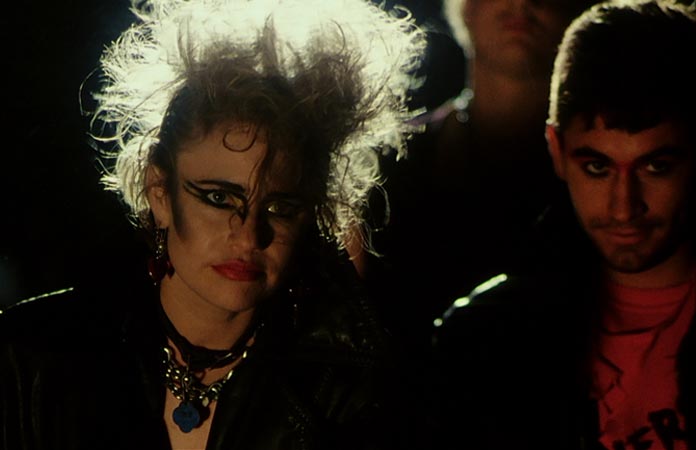 Punk Vacation is on Blu­-Ray. Say it with me, Punk Vacation is on Blu­-Ray.
I recently picked up Punk Vacation from Vinegar Syndrome because I'm completely obsessed with this company. I'm slowly going through their catalogue and watching everything they've released and it is nothing but pure joy to sit and watch these weird and "lost" films in the best quality available.
When reading the back of the case of Punk Vacation I was peeing down my leg because I was so damn excited. Punks, cops, rednecks, biker gangs, and revenge: these are some of the words that come to mind during the hot mess that was running down to my shoes as I stood there shaking and taking off the wrapping. Any film with those things listed above gives me the movie boner. Come on, you know that you get them as well. Anyways, I threw (carefully placed with ease) the disc in the player and ran to my couch to watch this punk fiasco.
With a title like Punk Vacation you can expect exactly what the title says. Some punks kill the owner of a store while his daughter is present so she witnesses the whole ordeal. Then a "war" starts. It isn't a major battle or anything but the shootouts and fight scenes are so good in the cheesiest way possible because it is exactly what you want in a film of this caliber. There is an older daughter who is the love interest of a police officer and she is kidnapped while enacting her own style of revenge.
The film was made in 1990 but it feels like an '80s flick through and through. It also looks like it is directly from that decade and brings me back to the ridiculousness of that time. Punk Vacation is a standard revenge flick with over the top characters who speak weird and bizarre dialogue, but it is perfect.
After the film ended I checked IMDB to look up its rating, read about the director, and to check the ridiculous message board comments about the film. I never listen or believe anything on the site but I find most of their ratings and reviews interesting; I skim through them just for a quick laugh. Punk Vacation had a whopping 3.8/10 and mixed reviews. I also saw that Punk Vacation was the director's only film and that was a little disheartening, but it is what it is. After some more minor research I came across the box art of the VHS. Then it set in.
As a child I would always see a VHS with the image of three punks with weapons on it. I never rented it or picked it up, but I would see it at least twice a week at our local nearby Video Hut. That feeling you get when you see box art that has completely left your mind hits you with this flashback of your childhood and it is one of the best feelings in the world.
Vinegar Syndrome also slapped a bonus feature known as Nomad Riders and since it shares a lot of themes of Punk Vacation, it works as a perfect double feature of complete trash . . . trash is a good thing here, people.
Along with this bonus feature, we are supplied with plenty of stills and a nifty interview with the actor who played the sheriff from the film. Yeah, there isn't much on the disc, but do you really think there's going to be an abundance of material for a film like this? I'm surprised they had what they had. Hell, I'm freaking shocked this film is on Blu­-Ray.
This is exactly why I give my full support to a company like Vinegar Syndrome (and why you should, too). Sure, they might not release the most amazing films ever created but they are keeping cinema alive. This is why we need more companies like this. They're giving these movies countless more years to exist. If it wasn't for Vinegar Syndrome this film was on its way to being lost. A movie with no major stars and a director that has only handled one film will not survive too long because that VHS is long gone. However, someone at Vinegar Syndrome has a mission and that mission is to keep cinema alive. Keep doing it and we will keep buying it.
Punk Vacation was released on Blu-Ray by Vinegar Syndrome on July 9, 2013.