Published on February 21st, 2014 in: Music, Waxing Nostalgic |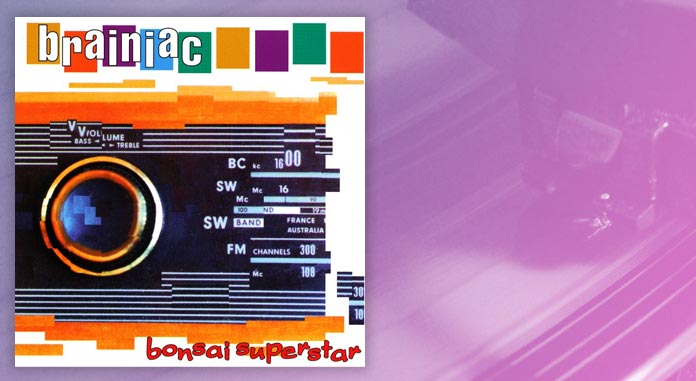 I spent a lot of time in Ohio as a kid. I'm sure there are people who really love that place and there is nowhere else they would rather be. Cool. I'm not one of those people. Even hanging out in Cincinnati like I did, most of the time there was just nothing to do.
Ohio comes in three dehumanizing flavors: generically urban, run-down industrial, or flatland farming. Any of those situations can seem oppressive, and that kind of oppression is enough to make a creative person yearn to break out and do the craziest shit possible to get their ideas out there into the Universe. To get noticed. To get the hell out of Ohio.
The band Brainiac, formed in Dayton, Ohio, certainly felt the backhand of the heartland. In an interview given in 1997, lead vocalist Tim Taylor said, "It might give you the illusion that there's a happening scene, but there's not at all. As of right now, there's not even a record store where you can buy our records in town. You have to go to Columbus to buy a Brainiac record, it's ridiculous."
Brainiac's music was a terrifying whirlpool of art-noise, dark humor, and the celebration of bad influences winning out over good. You could pogo to it. You could write a thesis about it. You could sit alone in a dark room with headphones on and let Brainiac be your abstract guide as you stared intently into the abyss.
The song is called "Fucking with the Altimeter." It begins with a sample from what seems to be an old LP designed to teach your parakeet to talk. "Give me some love!" says the friendly female voice. "Give me some love!" Then, like a dark creaking hinge on a sarcophagus lid, comes the harsh whisper of Taylor: God save us all. . .
In the Brainiac realm, that's a threat. Chaos is the structure here, only loosely contained by the concepts of linear time and songwriting. Even the dance songs could be used in rituals, calling for the end of the age and the destruction of all things holy. The guitar seems to have been tuned by repeatedly throwing it into a claw-foot tub.
Even though Brainiac only made four albums before the death of Tim Taylor in an auto accident, their influence is still being felt. Trent Reznor used the Brainiac EP Electro-Shock for President as a template for the nine inch nails classic sonic wall of self-loathing, The Downward Spiral.
Any first-time listen into Brainiac is a guaranteed leap into the deep end. The listener will be a little frightened, perhaps coming up for air, sputtering. The good thing is, there's no wrong song to start with. The only sad part is the realization that there is no more Brainiac to look forward to.
They played the second stage at Lollapalooza, back when it meant something. They opened for Beck on a European tour. They introduced a frightening element of lunacy to a genre that was more belligerence than threat. Brainiac's music, still relatively underplayed and unknown, has the ragged quality of something that escaped, scraping under the wire, still surely one of the best things to get the hell out of Ohio.
Find X's three favorite Brainiac songs and a ridiculous amount of other musical wonderment on the Waxing Nostalgic playlist on Spotify! Subscribe! Listen! Enjoy!