Published on January 31st, 2014 in: Current Faves, Music, Music Reviews, Retrovirus, Reviews, Underground/Cult |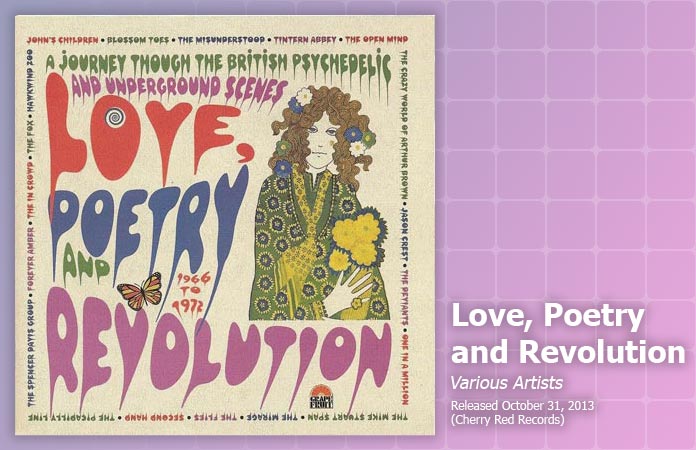 In just six short years, British Psychedelic bands went from singing songs about tea to songs about witches. Love, Poetry and Revolution: A Journey Through The British Psychedelic and Underground Scenes 1966-72 is a recent three-disc boxed set that plumbs the depths of the psychedelic revolution and collects these little-heard rarities alongside thoughtful, witty liner notes from compiler David Wells. Forgoing the more easily accessible, overplayed songs, Wells gives the listener gems by bands that never landed a recording contract, or perhaps only put out one album, alongside demos and alternate takes of more familiar artists like The Crazy World Of Arthur Brown and The Spencer Davis Group.
Chronologically presented, Love, Poetry and Revolution is a weird and marvelous thing. There are absolute gems here, like American ex-pats The Misunderstood's "Find The Hidden Door." It's furiously exciting with start/stop gritty guitar and epic operatic vocals. Harmonium- inflected "The Wedding of Ramona Blair" from The Mirage could be a lost Jellyfish track, if Jellyfish were extraordinarily English. Tintern Abbey, no strangers to '60s era compilations a la Nuggets, contribute the hazy and dreamy "Busy Bee" which dissolves into an elephant wallow of a drum solo. "Rosemary's Bluebell Day" from The Piccadilly Line is as twee as the title suggests, but the guitar/organ pairing has a surprisingly hard edge. The Deviants' "You've Got To Hold On" is a garagey blast of harmonica driven punk. Peter Howell and John Ferdinando's "Jabberwocky" is a hushed reading of Lewis Carroll's poem over backward tapes and echoes. It feels a little like going mad.
Presenting a compilation chronologically, especially one that takes place in the '60s and '70s does have its drawbacks. Around 1970, the songs begin to get very very long. There is some massive noodling. Hawkwind Zoo's "Hurry On Sundown" is one of the worst culprits and noodles on for an age.
Still, it can't hold a candle to the inspired awfulness of "Lament For The Earth" from Principal Edwards Magic Theatre. While featuring the first female voice on the record (on disc three), it is wildly terrible and almost hilarious. The liner notes refer to John Peel's business partner Clive Selwood saying that Principal Edwards Magic Theatre is "the most pretentious act I have ever come across."
"Have You Heard The Word" from The Fut has shown up countless times on Beatles bootlegs, and does, indeed, sound like a Magical Mystery Tour era outtake (so much so that Yoko Ono tried to copyright it as a John Lennon composition in 1985). It is an uncanny sound-alike, and it is even better to learn that a drunken Bee Gee (Maurice) was behind it, along with Australian duo Tin Tin. The Bee Gees are also responsible for penning the Sands' "Mrs. Gillespie's Refrigerator," itself an odd little slice of whimsy on disc one.
The final two tracks take a dark turn. "The Witch" from Mark Fry is proto acid folk. Eerie and disturbing, it features the always-classic duo of flute and sitar with hushed vocals over insistent quiet bass. "Evil Island Home" by Kevin Coyne is genuinely disturbing and weird as anything. His voice is disembodied over a percussive acoustic guitar and marks the first time I've ever heard "See the stoat" as a lyric. It sounds like a song by Devendra Banhart's evil brother.
Love, Poetry and Revolution is fascinating. The progression from mod to twee psychedelia to harder-edged, spacey weirdness makes sense when presented in such a thoughtful, carefully curated way. David Wells's obvious love for his subject is clear and his passion makes me want to hear more of these little known nuggets.
Love, Poetry and Revolution was released by Cherry Red Records on October 31, 2013.