Published on January 24th, 2014 in: Current Faves, Music, Music Reviews, Reviews |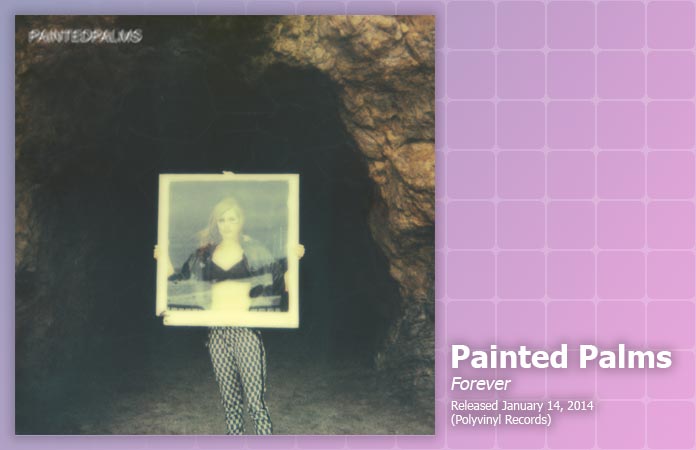 At the risk of dating this review, Painted Palms' Forever is a beam of sunlight in the middle of an oppressive winter. It's not like pulling up the shades at 7 a.m., though. The album's delightful qualities creep up on you slowly but surely, until you're singing along and humming the tunes later on.
This is the second album by Painted Palms, a band formed formed a few years ago by Lafayette, Louisiana cousins Reese Donohue and Christopher Prudhomme. Although both moved to San Francisco eventually, they continued to collaborate separately by sending their ideas back and forth via computer.
The result is Forever, a psychedelic carnival that's not beholden to the past, but fresh and modern. Prudhomme has a pleasant tenor that veers into falsetto and though you can sometimes hear the strain in his voice, it's a nice accompaniment to the crispness of the electronica found throughout the songs.
Unfortunately, Forever isn't perfect. In fact, there's a great album buried inside of its 12 songs; perhaps there's also a pretty good EP. It's not that any of the songs are bad, it's that some of them sound similar, and when placed together drag things down right when they should be getting started. Perhaps "drag things down" isn't the right phrase. If anything the songs that feel extraneous are the ones that are so lightweight they feel like they might fade away.
The album opens with "Too High," which gets you into the band's sound immediately, a bouncing, looping song with a catchy chorus. "Here It Comes" and "Hypnotic" are both good songs, but sound like slowed down or alternate versions of "Too High" and so the album starts to grate a bit.
On the other hand, "Forever" is a wonderful blend of darker melodies and bubbly electronica with a great chorus and charming, childlike harmonies. And while "Soft Hammer" is probably tonally necessary after three somewhat uptempo tunes, it feels a little out of place. "Carousel" adds a welcome touch of guitar and "Not Really There" is fine enough, but again, by this point there's a sameness that feels cloying instead of soothing.
The 30-second "Hope That You See It Now" sounds quite different from the rest and would probably have worked better expanded into something full length. "Spinning Signs" is an outstanding track and signals the fairly flawless portion of the album. It's propulsive, with an excellent bridge and chorus, as well as more of those lovely background harmonies. The dreamy "Sleepwalking" is next, and fits perfectly here. "Empty Gun" opens with a Roger Manning-esque keyboard sequence and has a heavier drum sound and some great bass lines that anchor the song against its infectious chorus. "Angels" is a gorgeous song with vocals and harmonies to match, along with some acoustic guitar and faux-timpani in the form of guitar towards the end. I wish more bands would end albums on such a beautiful, wistful note.
Lyrically, the songs are fairly unimpressive, but that's a minor complaint. Forever is still an enjoyable collection of songs, even when it falters. When Painted Palms are good, they're very good, and I look forward to hearing more of them in the future.
Forever was released on January 14 by Polyvinyl. The album is available on MP3, CD, cassette, or white vinyl from the Polyvinyl website and digitally from iTunes.