Published on January 17th, 2014 in: Current Faves, DVD, DVD/Blu-Ray Reviews, Horror, Movie Reviews, Movies, Reviews |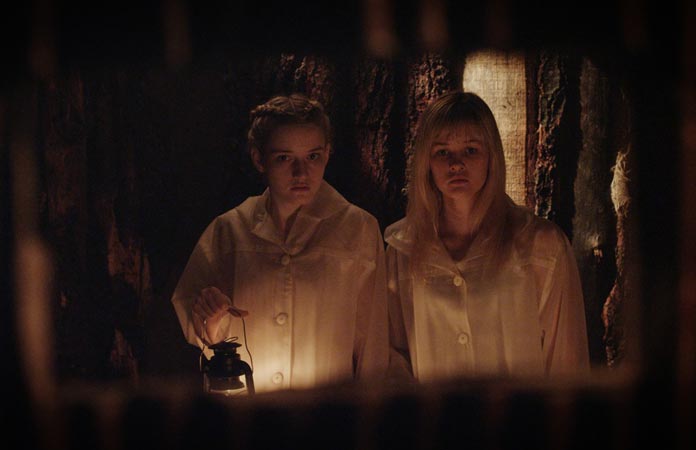 Having only recently seen Jorge Michel Grau's Somos lo que hay, I was excited to see Stake Land director Jim Mickle's reimagining of the story in his latest feature, We Are What We Are. I was not disappointed. It's tempting to compare and contrast the two films, but that would be a disservice to both; while the core narrative is similar, each film explores the terrain of family and tradition in different ways, both culturally and tonally.
Mickle's film looks incredible, thanks to Director of Photography Ryan Samul. From the opening shots of a spiderweb heavy with fog, to cattails in a grey lake and foreboding mountains, we immediately feel the oppressive nature of the story before we even know any details. The score by Jeff Grace, whose work includes Stake Land and Ti West's The House of the Devil, is evocative and tender without being melodramatic. This also helps to set the tone for a film that is mostly stark and straightforward without being ponderous.
There are exceptions. There's a scene with Frank Parker (Jim Shaw) where he's praying alone in his bedroom and it comes across as a bit heavy-handed. On the other hand, the cross cutting between Rose (Julia Garner) and Iris Shaw (Ambyr Childers) cleaning the body for the ritual; Doc Barrow (Michael Parks) bathing his dog; and neighbor Marge (Kelly McGillis) eating lasagna seems either too on-the-nose or comical (or both) and undercuts the gravity of the individual moments.
These are minor flaws in an exceptionally outstanding film, however. The cast is superlative. Shaw is terrifying and tyrannical as Parker, while Garner and Childers scurry around like abused dogs. It is a treat to see McGillis as another salt of the earth character, one who helps provide outside perspective on how oppressive and abnormal the atmosphere of the Parker homestead truly is. Parks plays Barrow with a mix of humanity and treachery, and one wonders if he had his own suspicions long before the four-day time frame during which the movie takes place.
The allegedly shocking ending is actually genuinely shocking and exactly as sly as it should be. A film that purports to be about a bunch of cannibals could come across as lurid but in truth, We Are What We Are is more about teenagers wanting to rebel against family expectations, which is what teenagers do in North America. The ambiguous ending begs the question of whether or not they escape and if they ever wanted to in the first place.
We Are What We Are is another impressive film from a director who seems on the verge of being heralded as one of the next great American filmmakers.
We Are What We Are was released on DVD on January 7 from Entertainment One. The disc includes an hour long featurette called "An Acquired Taste: The Making Of We Are What We Are." There is no narration, but the skilled editing helps you understand what's taking place. Various members of the crew and cast are identified, and it not only highlights the collaborative efforts of the team but also shows how terrifically talented they all are at transforming the raw footage into the gorgeous finished product we see on the screen. There are also interviews with Mickle, Sage, and Garner as well as a cast and crew commentary track.