Published on January 17th, 2014 in: DVD, DVD/Blu-Ray Reviews, Music, Music Festivals, Retrovirus, Reviews |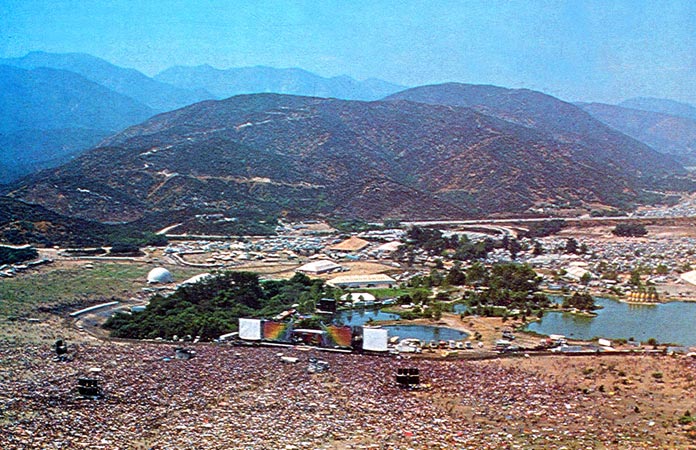 In the early 1980s, Steve Wozniak had a dream and a whole lot of money. He wanted to marry music, technology, and community, and so created the US Festival. Showcasing new technology and the best acts in current music, the community created itself in the desert (in ungodly hot conditions, because, well, desert) on Labor Day and Memorial Day weekends in both 1982 and 1983. Now, you can relive those sweaty, dusty days of 1983 in the only DVD release sanctioned by Unuson (an acronym for "Unite Us In Song").
Broken into three roughly 45-minute segments that reflect the three themed days of the US Festival, the selling point is, of course, the musical performances. The Clash famously broke up onstage (but to be fair, they had been fighting with Van Halen all day, and that Van Halen can fray nerves), but we don't actually get to see that. We do get to see them do a blistering rendition of "Should I Stay Or Should I Go" in its entirety. In fact, all musical performances are full songs, save for Berlin's "Sex (I'm A…)." While it is listed on the packaging, it's a brutally butchered version and the filmmaker chose instead to show crowd shots instead of the band. The "performance" is followed by Terri Nunn walking offstage and being adorable.
New Wave day featured the English Beat and Dave Wakeling's amazingly orange hair. Michael Hutchence's snake hips and Jagger-esque dance moves are the highlight of INXS's "The One Thing." The Divinyls' Chrissy Amphlett was incredibly fierce and riveting on "The Boy In Town."
The real revelation was Men At Work's set. Why haven't the hipsters glommed onto them? The charming Colin Hay is interviewed on the disc and their two performances are tight. Hay's voice is so distinctive and there's a moment in which the drummer is lit from behind, illuminating his back hair. It's amazing.
A quick search of Metal day on Wikipedia shows me that there were more bands there than Judas Priest, the Scorpions, and Triumph, though they're all that's represented here. Presumably hamstrung by licensing issues, it does give us access to lots of Triumph. Three songs by them. They look so very wholesome and Canadian (even the bass player, who is rocking a "Crazy Uncle Dirty" vibe). Still, for stagecraft, Judas Priest is impressive, if only for Rob Halford's entrance on a Harley and his leather daddy outfit. The Scorpions, however, win the set by their sheer exuberance, ending up in a pile like so many frisky Teutonic puppies.
Rock day again brings us Triumph (though they only played on Metal day) playing the sort of song that shows up in '80s movies during a hopeful montage of athletic prowess. Here it's during a montage of US Festival goers, using the same footage that's been reused in the other two segments. Bono shows up in his own band's T-shirt and a magnificent mullet to scramble up some scaffolding whilst his band plays "Sunday Bloody Sunday." The show is stolen by Stevie Nicks, who is introduced by her dad. The vocals on her first song, "Outside The Rain" are muddy, but "Stand Back" is perfectly witchy and mesmerizing.
It is allegedly remastered and restored, but the DVD has a very VHS look to it, and the sound quality is muddy in parts. There are graphics from an original release of the US Festival added in, which adds to the VHS-iness of the presentation. The extras are nominal; the musical performances are available individually. There are pop-up facts about the Festival that appear sporadically and on the whole, the release seems a bit slapdash. A surprisingly distinguished Mark Goodman (in an incredibly douchey shirt) gives interesting insights and comments, as well as Steve Wozniak.
It's unfortunate that this release isn't better, because the US Festival aspired to be groundbreaking, and this DVD is merely okay.
The '83 US Festival, Days 1 – 3 DVD was released on December 3, 2013 by MVD Visual and is available to order from See Of Sound.