Published on January 17th, 2014 in: Blu-Ray, DVD/Blu-Ray Reviews, Horror, Movie Reviews, Movies, Reviews |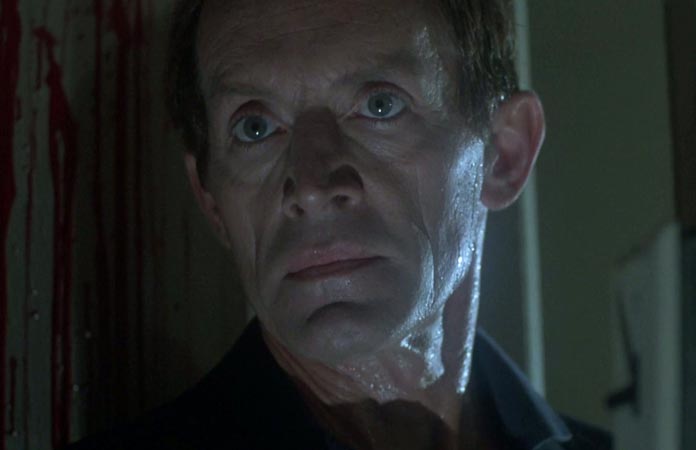 The Horror Show is a horror film that fell off my radar years ago but I still have the cut box VHS in my media room. It isn't a bad film, but it just doesn't do it for some people and that includes me. In a lot of ways the film reminds me of Shocker and feels almost like a prequel. (I might be alone on that one.)
The Horror Show is also known as a sequel to the House franchise. I know it sounds weird, but it was also marketed as House 3 at some point and I'm not sure why. It doesn't follow anything that the House films did other than that it's bat shit crazy.
The only awesome things in The Horror Show are the performances by Brion James and Lance Henriksen. They kill it. It was also the late Jim Isaac's directorial debut and a landmark for '80s horror fans. Even though this film isn't heavily discussed on a regular basis, it is loved by many.
Scream Factory always surprises me with each and every release that they put out. It's nice to know that there is a small group of people just like me who want to see these films in the highest quality that can be provided. Sometimes you might think you might be the only once who's in love with a flick and Scream Factory announces a reissue. Remember that time Scream Factory released The Video Dead on Blu-Ry? THE VIDEO DEAD ON BLU-RAY. I still don't believe it and sometimes I just stare at the disc and wonder who the hell likes this film other than me. Anyway, The Horror Show is like that for some people as well. I remember the day they announced it and a few people went crazy.
The Horror Show is about a cop who's put away a notorious serial killer. After he gets the electric chair the killer comes back to haunt him. Sound familiar? The film is nice and bloody and has some great kills, great cinematography, and plenty of gore.
This is a standard release for Scream Factory because it is almost bare bones. It gets the Scream Factory treatment with the audio and video and an interview with a couple of the stars, along with a theatrical trailer. Basic, but nice.
Also, this is one of the cheaper releases from Scream Factory. I know a complaint amongst many is the price of their Blu-Rays, but they have to pay for those rights and transfers somehow. It doesn't come cheap, my friends, and you should be willing to pay because you'll just get more excellent additions to their horror family catalogue in the near future. Who knows, you might even get Shocker.
The Horror Show was released by Scream Factory on November 26, 2013.