Published on January 10th, 2014 in: Blu-Ray, Current Faves, DVD/Blu-Ray Reviews, Horror, Movie Reviews, Movies, Reviews, Science Fiction |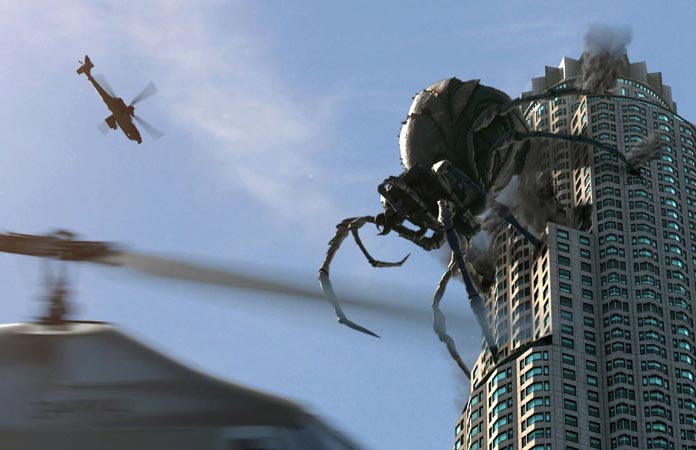 Why wouldn't you want to watch a film called Big-Ass Spider?
I agree, the title is more of a selling point than the film itself, but you get exactly what it is. Mike Mendez isn't new to the horror genre; he won me over with his last film The Gravedancers. So when I heard about Big-Ass Spider I was very intrigued to see what he was going to do next. Yes, the movie does sound and look like a Syfy channel premiere, but it has a little bit more going for it than that trash. Just because a film is cheap and the effects are not the greatest doesn't mean the film isn't worth your time.
The performances and dialogue in Big-Ass Spider put any of these other insect/animal attack films to shame. Greg Grunberg and Lombardo Boyar are one the best comedic duos I've seen in a while. I'm not saying the film is bad, but the comedy really sticks out with this one and had me laughing pretty hard at times.
Big-Ass Spider doesn't seem to bring anything new to the table—it's your normal, run-of-the-mill creature feature with today's toy computer effects—but it does have something that these other films don't. Heart. That may sound weird but I felt there was a lot of passion behind this film. From the beginning to the end, all the actors take their roles seriously and give great performances. Most films like this hire out-of-work actors and splash their names all over the cover, but this one doesn't. It has some actors we love and cherish like Lin Shaye and Ray Wise. It strays away from getting Antonio Sabato, Jr. or Mario Lopez types and stays with the unlikely heroes. That is what makes Big-Ass Spider different from everything else like it.
Mike Mendez has impressed me yet again with his B-movie charm and I hope he continues to do so as time goes on.
Big-Ass Spider was released on DVD on January 7 through Paramount Pictures.