Published on January 3rd, 2014 in: Best Of Lists, Horror, Science Fiction |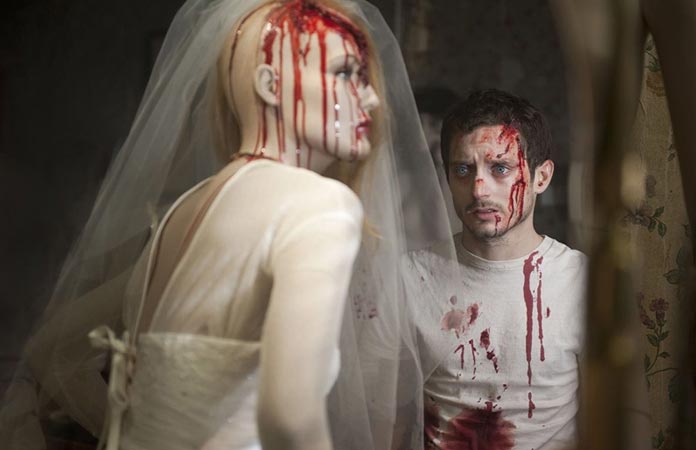 Maniac
I know, I know, we all hate remakes and fans of Bill Lustig's sleazy original all had a giant seizure in unison when the project was first announced. But the new Maniac completely surpassed my own expectations in every way. Elijah Wood's psycho is just as creepy and menacing as Joe Spinell's, the P.O.V. camera work is innovative, and the violence is truly disturbing. This may just change your mind on the way you see remakes.
American Mary
Directed by twin sisters Jen and Sylvia Soska, American Mary has been popping up on a ton of best of lists and for good reason—the original premise and convincing performance by Katherine Isablelle, star of the Canadian hit Ginger Snaps, helps American Mary rise above many of the independent horror films released in 2013. American Mary is just twisted enough to satisfy horror fans bent on the films of David Cronenberg and Takashi Miike.
The World's End
The writing trio of Edgar Wright, Simon Pegg, and Nick Frost are in fine form with this hilarious, sci-fi horror film. Turbo-charged fight scenes with the alien invaders, top-notch visual effects, and the chemistry of the cast elevated this over Seth Rogen's North American apocalyptic comedy, This Is The End.
You're Next
You may have missed its short theatrical run, but Adam Windgard and Simon Barrett's home-invasion thriller really delivers with clever kills and a simple but suspenseful story. It also marks the return of scream queen Barbara Crampton. You're Next is a smart and scary tribute to the Friday the 13th franchise and the stalk and slasher subgenre.
The Conjuring
More or less based on a true case from the files of the real life paranormal investigators behind The Amityville Horror, Ed and Lorraine Warren, The Conjuring is a fun ride through the spookhouse. It's more than predictable and even though I saw the ending coming, James Wan's direction of the set-ups and the clever, unconventional scares make this film work. Plus, it's got the creepiest doll in it since Poltergeist.
I Declare War
Co-directed by Robert Wilson and Toronto filmmaker Jason Lapyere, I Declare War was a total surprise. A highly imaginative game of Capture the Flag takes some dark turns among a group of neighborhood kids. Think Lord of the Flies and Battle Royale and you're close. Great pacing and more than a few interesting twists make I Declare War a compelling watch.
Antiviral
Brandon Cronenberg's debut is more than a skin cell similar to the films of his father, but his debut stands on its own as a slice of sick cinema. With a limited budget, the filmmakers really sold me on the world where celebrity obsessed, DNA vampires become addicted. Antiviral is the modern day Martin.
Grabbers
Gremlins, Tremors, and Shaun of the Dead walk into a bar. . . Produced in Ireland, Grabbers is B-movie monster fun at its best. In order to avoid becoming lunch, the people of a small Irish community must stay drunk because the tentacled creatures have a deadly allergy to alcohol. The film really benefits from a great cast, sharp humor, nods to other monster and sci-fi films of its ilk, and some pretty fantastic effects.
The Wolf of Wall Street
Based on a true story, Martin Scorsese's latest effort is a frenetic, scathing, and often hilarious take on the life of salesman/crook Jordan Belfort. The Wolf of Wall Street is more in line with the demented satire behind Natural Born Killers: it glorifies the villains and plays as a comedy more so than a dramatic autobiography, but that's not a gripe. For me, it's Scorsese's best since Casino.
Rewind This
Using entertaining interviews with fans and film folks harboring a rabid love of VHS and the home video boom of the 1980s, Rewind This is a ton of fun to watch for nostalgic horror fans and for those of us who remember what a video is.
Blackfish
You may just think twice about taking your kids to SeaWorld or Marineland after watching this infuriating and revealing doc on the cruelty and mistreatment of Orca whales in captivity. Like Warner Herzog's Grizzly Man, nature has its revenge and it isn't pretty.
All The Boys Love Mandy Lane
I caught this when TIFF programmer Colin Geddes screened it before he announced his selections for Midnight Madness and I was blown away by how good it was. The movie, starring Amber Heard, sat on the shelf for a whopping seven years before finally seeing a DVD release this year, but it still comes off as a fresh entry into the slasher genre. The twist ending was also a big surprise. Highly recommended.
A Band Called Death
A heartfelt documentary on three brothers from Detroit and their punk band Death that pre-dates The Ramones, The Sex Pistols, and Bad Brains. They cut an album, but the disappeared into obscurity only to be discovered years later. Electrifying and inspiring, the doc also features interviews with Henry Rollins, Alice Cooper, and guitarist Vernon Reid.
Most Anticipated In 2014
The Editor (Astron 6)
The ABCs of Death 2
Curtains (Blu-Ray remastered and reissued through Synapse)
Cooties (Elijah Wood's monster movie)
Jodorowsky's Dune (documentary)
The Raid 2
Alice Cooper documentary by Banger Films
For more on Gary Pullin and his artwork, check his website.