Published on December 20th, 2013 in: Current Faves, Movie Reviews, Movies, Music, Reviews |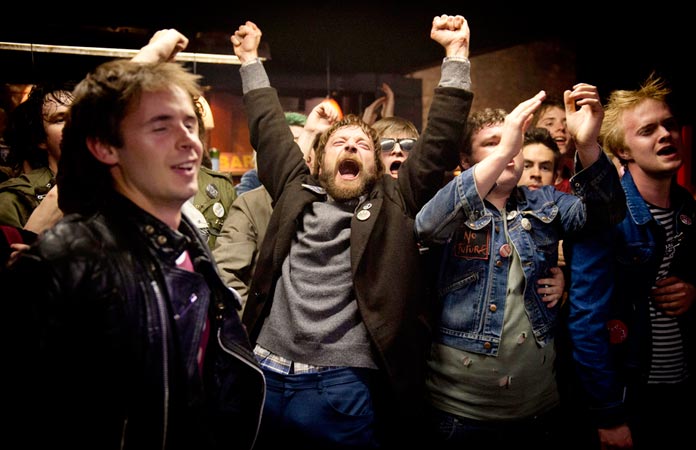 No doubt there are many who've heard of Terri Dooley, music lover, DJ, record shop owner, and tireless champion of the unheard music, but for those of us who haven't, Good Vibrations is a giddy delight. Based on the real life (mis)adventures of the Belfast native, the film should win the hearts of all movie and music lovers, even those who've determined themselves too jaded to care.
Directors Lisa Barros D'Sa and Glenn Leyburn, along with screenwriters Colin Carberry and Glenn Patterson, are relative newcomers, and this may be part of the reason the film feels a bit unpolished. It could be part of why the film crackles with unbridled exuberance, too. The biggest factor in the unbridled glee of the film is Terri Hooley himself (wonderfully portrayed by Richard Dormer), whose zest for life comes across as myopic and delusional at times, but always authentic.
Not so believable are some of the wigs and a fair bit of dialogue. The former look silly, while the latter feel corny and clichéd. At such moments, Good Vibrations veers uncomfortably close to sketch-comedy parody. You've got to uncross your arms and unclench your butt cheeks, though, because these are minor quibbles in a film that is overwhelmingly enjoyable. Adding to the charm are familiar and talented faces like Jodie Whittaker, Ruth McCabe, and Liam Cunningham, who I'm pretty sure is contractually obligated to be in every Irish film made.
Going along for the wild ride that has been Hooley's life is best saved for watching the film and not reading the details in a review. True, there are a few moments that feel somewhat telegraphed, even if they don't show up quite when you think they will. On the other hand, there are many moments when the film sweeps you up in the thrill of it all.
One of these moments occurs during Hooley's first foray into a punk club and a live performance of Rudi's "Big Time." The camera slows down and you can see confusion, excitement, revelation, ecstasy, and communion cross Hooley's face, bit by bit, until you feel like you're right there with him. Anyone who's ever experienced this at a concert will know the feeling and recognize it immediately. I haven't seen a cinematic musical moment this transcendent since Velvet Goldmine.
Stylistically, Good Vibrations doesn't have the byzantine metacritical chops of Todd Haynes, but there are fantasy sequences, though they're less Julie Taymor's Frida and more Neil Jordan's Breakfast on Pluto. Like the latter, The Troubles are a vital aspect of the film, but The Wind That Shakes The Barley this is not. The Troubles inform Hooley's insatiable determination much like they do for St. Kitten, but the music is still the thing, not politics or religion.
Another fantastic scene is the slow reveal that starts inauspiciously with a stack of tapes thrust upon Hooley whilst touring with Rudi during a dangerous cross-country tour, travels to London and the BBC Radio offices, then to a dingy recording studio, and finally ends with a demonstration of how to fold a single sleeve. In between, we see the effect that the still-unheard song has upon Hooley and when we finally hear those beloved and familiar chords, it's one of the more satisfying payoffs captured on film.
By this point in the movie, any reservations about hairpieces or cheesy lines have been long forgotten. At nearly two hours, there are a lot of scenes that feel like broad brushstrokes in a life that has more likely been filled with the tiny dots of a Seurat painting. Such is a life of a legend, however, and Dormer's performance is engrossing enough that it doesn't matter. Watching Good Vibrations will leave you with a massive grin on your face, a warm glow in your heart, and a desire to find out much more about the bands of the Belfast punk scene and of course, the inimitable Terri Hooley himself.
Good Vibrations opens today at TIFF Bell Lightbox and runs through December 26. For more screening dates, check out the movie's page on the Films We Like website.