Published on December 19th, 2013 in: Best Of Lists, Movies, Music, TV |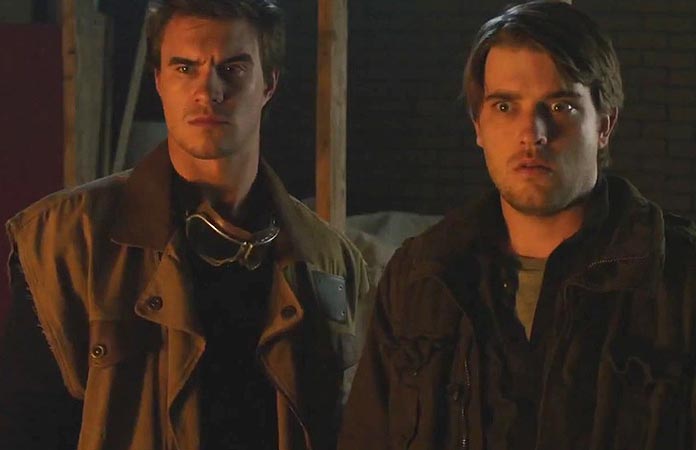 When I started thinking about how my best of list was going to look, I had four entries in mind. I kept putting off writing it though, because I still hadn't seen Jessica Cameron's Truth Or Dare, Lawrie Brewster's Lord Of Tears, Richard Raaphorst's Frankenstein's Army, or heard the new Black Flag album. Well, the year is winding down and I must move on. No doubt I'll blab at great length about them all later. So my list is short, but strong.
Movies:
John Dies At The End: When I saw Don Coscarelli's adaptation of the David Wong novel I left the theater feeling so proud to be a horror fan, because if I weren't I probably wouldn't have seen the damn thing! The film is insanely entertaining, hilarious, and gory. Coscarelli is a master storyteller. The cast was less like a cast, and more like "plucked from this horrible situation to make a film about it". The book the movie is based on should be on everyone's shelves and taught in middle schools. (review)
American Mary: The Soska sisters' second feature came out of left field, which for a horror film isn't easy to do. I can't think of another film that dealt with underground surgery/body modification, so we're off to a good start not covering well trod upon ground. The quality of filmmaking is also a cut above standard indie fare and a worthy addition to the body horror subgenre. Really my only complaint about the movie is that was too short. (review)
Music:
Coliseum, Sister Faith: This album harkens back to something I've missed from my youth. While you'll hear strains of post-hardcore and metal, Coliseum occupies a niche outside of either and makes exciting, pummeling music. Sister Faith is their fourth album and it's fantastic.
Television:
American Horror Story: Coven: When the first season of FX's AHS was announced my expectations were low. Horror on TV? It's never really been done right. "Pretty good," maybe, but done right? AHS actually did do horror right and did it right again with Season Two, and so far Season Three might top them both. Coven has certainly been my favorite show (though admittedly I only watch Dr. Who, Arrow, The Walking Dead, and Supernatural) this year. Jessica Lange is amazing and Gabourey Sidibe's Queenie might be my favorite character. Can't imagine where the series will go next season, because they've set the bar pretty damn high.