Published on December 17th, 2013 in: Best Of Lists, Music, TV |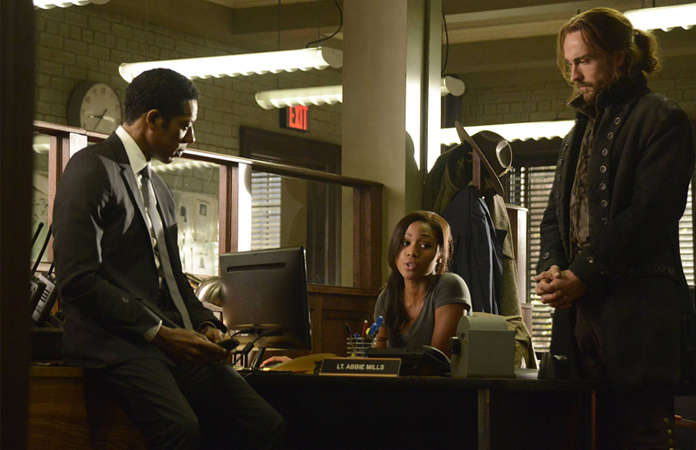 I could strictly do a Top Ten list from the albums I've reviewed, but surely you've read all of those reviews and logged them away in a notebook with "Cool Music—Top Secret" written on the front of it and will later take that notebook to the record store (or computer; that's okay, too) and buy things and be happy about the choices you've made in life.
So instead, I have a different list of things that made me happy to be a human this year, in no actual order.
1. Shows about scary things.
Sleepy Hollow, as a show, doesn't really work on paper. It's a silly premise. It's a limited premise. However, it works on screen, and it's still damn silly. But the actors are committed, the writing works, and it's fun. It's really, ever so fun.
Supernatural is also, at times, deeply silly. Sometimes, the writers retcon entire plot points and mythologies (and if they could have retconned Season 7, that would have been more than okey-dokey) and sometimes, they forsake seasons upon seasons of character development. Again, it comes down to the actors. Jensen Ackles can flit through so many micro-expressions that it seems a crime that he's not insanely famous. Jared Padalecki is a chameleon (a very tall, sort of mooselike chameleon). They've carried the show into it's ninth season and have a chemistry that is honest and alive.
And then there's Orlando Jones. A star of Sleepy Hollow, Orlando Jones has stepped boldly into the world of fandom with his Twitter feed and his Tumblr, and recommends fan fiction to his followers. Who does that? He, too, digs Supernatural, and live-tweets episodes. He's insightful, but more importantly, hysterical.
2. GISHWHES.
A discussion of Supernatural isn't complete without mention of Misha Collins, himself an excellent Twitterer (I prefer Tweetest). When he realized the power of playing Castiel and the fanbase that it accorded him, he decided to exploit that, erm, use that power for good. He created a charity, Random Acts, which does just what it says on the tin, and unleashed upon the world the Greatest International Scavenger Hunt the World Has Ever Seen. Teams are given a seemingly impossible list of tasks and asked to document their efforts. The winning team wins an excellent prize, involving Misha in a far-flung (or at least Vancouver) location.
My son and I took part in it this year. The list was insane. Nuns went down waterslides, NASA asked Gishwisheans to stop contacting the International Space Station. People donated blood, furnished a down-on-their-luck family's home, dressed as knights on city streets, harnessed marching bands to play "Carry On Wayward Son." I made Chris Hardwick out of dried fruit, amongst other things. It was a week of insanity and hilarity and problem solving (exactly how do you take a picture of an animal in his kennel staring someone down in a smaller kennel? How much fruit am I going to need?). I can't wait for next year.
3. WTF with Marc Maron.
If you're not listening to Marc Maron, I'm sorry. If you are, why aren't we hanging out? Recording a podcast out of your garage might not be the most logical career move for a stand-up comedian, but Maron has made it work. Having mostly run out of fellow comedians to interview, he's moved on to chefs, writers, actors. Everyone has a story, and Marc Maron draws it out of them. Sometimes hilarious, sometimes moving, sometimes infuriating, WTF is always good and thinky. And don't skip the opening monologue, either.
3. Davell Crawford, My Gift To You.
Such a perfect record. So unheard. It still gives me tears and chills and joy. (review)
5. Neko Case, The Worse Things Get, The Harder I Fight, The Harder I Fight, The More I Love You.
I was happy to not review this because sometimes it's nice to just listen and not put on my judgy pants. I would, however, have raved about the latest Neko Case. It's angry and raw and good lord, that woman has the voice of a valkyrie. She never fails to bare her heart. Her acapella "Nearly Midnight, Honolulu," is so devastating and powerful it hurts.
6. The books of Rainbow Rowell.
She's an Omaha based writer (as am I), and her books are set in our fair flower of a city. Besides their delightful settings, her books feature nicely drawn characters. Eleanor and Park is a YA novel set in the '80s that has a most delightful slow burn love story. Attachments is full of hope and crushing disappointment and a very clever way of telling a story. With Fangirl, which was apparently picked for a Tumblr book club (I don't even. . . ) juggles three narratives (the protagonist's story, a Harry Potter-esque story, and the resulting fan fiction from it) and is clever clever clever. They're all such good reads. I'm glad to have found her stuff this year.
7. The Omnivore releases of Buck Owens and the Buckaroos albums.
The first thing I wrote for Popshifter, I believe, was about Buck Owens. I love him. I love Don Rich. I love those Buckaroos. And I love that Omnivore has plundered the Buck Owens vaults and released the flurry of records like Don Rich Sings George Jones, and the awesomely named Buck 'Em, as well as the Buckaroos karaoke album. It's an embarrassment of riches for me.
8. Galactic.
While they New Orleans funk/jazz band didn't release anything new this year, they are always in heavy rotation. They make gut-churning, face-ripping funk. That is not a good description. They make music that makes me move. 2010's Ya-Ka-May is possibly my favorite record of all time; it's a tour of the music that makes New Orleans great, filtered through the greatness of Galactic's singular sound.
9. The Blow Monkeys, Feels Like A New Morning.
I still love this one. I hadn't really given The Blow Monkeys much consideration until hearing their newest, but once I had, I did go back and buy their back catalogue. Feels Like A New Morning makes me smile when I see the CD case in my cabinet. It's that good. It's so hopeful. It makes me feel all warm inside. (review)
10. NOLA artists on the road.
While I didn't make it out to many shows this year (because I don't like people), I did catch Preservation Hall Jazz Band twice (two different iterations: one recorded the amazing That's It! and the other was some sort of farm team. Both were pretty damn great) and the Soul Rebels with Donald Harrison, Jr., and the brilliant James Andrews. Thanks to HBO's Treme, the music of New Orleans has reached an audience that it couldn't have before. It's delightful and I couldn't be happier that the artists I love are able to find fans worldwide. And I am twice as happy that I can go join an imaginary second line and clap until my hands are bruised and happier still that I can hear some funky funky tuba. Tuba makes the world go round.