Published on December 11th, 2013 in: Best Of Lists, Holidays, Music |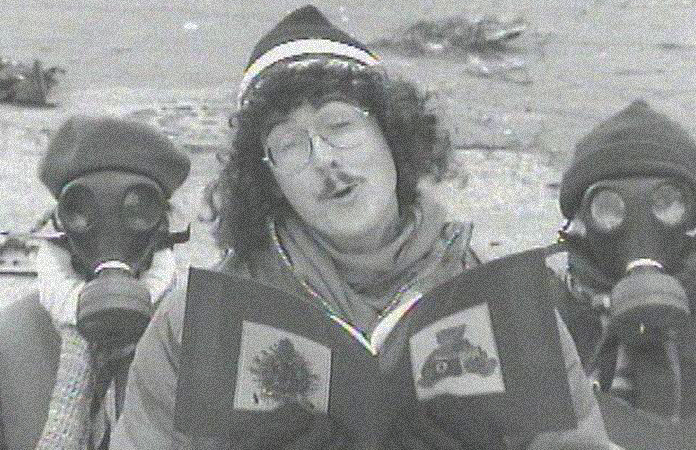 Just for a moment, let's pretend there's no such thing as the War on Christmas (grow up, people; there's no such thing as a War on Christmas). No politics, no rigamarole, just happy people, coming together to celebrate . . . I don't know . . . winter? Can we all live with that? Here's some music from the 1980s that will help you joyously celebrate whatever Solstice-oriented birthday party of cultures and Temple dedications that you and your family deem fit. Or maybe don't celebrate anything. I ain't your momma.
"Christmas in Hollis," Run D.M.C.
There's no way to verify that Christmas was like this for everyone in Queens, but it's hard not to believe it must have been after hearing this song. It's like a giant holiday potpourri full of Santa, reindeer, and collard greens. Boy, if there's one thing I enjoy finding in my stocking, it's a nice bowl of lukewarm collard greens. This song was also used in my favorite holiday movie, Die Hard. If it's got the Hans Grüber seal of approval, you know it's one of the best of the season.
"Fairytale of New York," The Pogues, featuring Kirsty MacColl
I like to imagine my family, gathering from places near and far, drinking lighter fluid from the bottle while standing around a burning oil-drum, under a bridge on a cold night in a nameless big city, hands around each other's waists, singing this song into the frigid air. Perhaps we play a game, like looking for one of my teeth. Stockings are hung on a nearby concrete pylon, and my stepdaughter brandishes a rusted piece of rebar, to keep the wild dogs at bay. Bring your family together this year and sing "Fairytale of New York," and feel the warmth of unconditional love filter down the leg of your ragged pants.
"Father Christmas," The Kinks
Still the most overlooked band of the British Invasion, The Kinks were comfortable with everything from power-chord rock to sweet, layered chamber pop. This Yuletide delight has everything one loves about a Kinks song. Ray Davies' vocals are cracked and ragged, the orchestration is just a little off center and the lyrics are as pointed as a Christmas star. Socially relevant without being overly earnest, "Father Christmas" should be sung by everyone on their way to the homeless shelter, for their one obligatory day of volunteer work.
"Christmas in Heaven," Graham Chapman
If you celebrate Christmas, it would follow that you also believe in Heaven. You've got to figure the Christmas party in Heaven has got to be a fantastic affair. After all, the birthday boy already lives there, which makes planning a surprise party a real pain. The song, "Christmas in Heaven," made its debut in Monty Python's The Meaning of Life, so don't expect anything close to reverence. Everyone does, however, look smart and wear a tie. It's spectacular, and no one has done a purposefully horrid American accent quite like the late Graham Chapman.
"Christmas at Ground Zero," "Weird" Al Yankovic
Sure, it's funny. Goofy lyrics, accordions, bad puns and all the other lovable dreck you expect from a "Weird" Al song. There's a serious side to this little tune, though, and it has to do with growing up during the Cold War. Eighties kids grew up with the knowledge that everything could have ended at any time, with the push of a button. Sure, we all wanted Rubik's Cubes and an Atari 2600; more than those things, we wanted not to be vaporized in a hellish nuclear war that would reduce our bodies to steam and our dreams to radioactive ash. There's a thread of nihilism here, and a grave acceptance of our own Christmas-wrapped mortality. Just a novelty song? I think not.
"Christmas Wrapping," The Waitresses
Gleefully goofy, this is the song nodding your head was invented for. Sort of a "Manic Monday" for the Holidays, this is the perfect tune for people who already sick to death of all the stress this time of year can bring. Not to mention, there's one of the strangest horn section breakdowns in any Christmas song ever written, a time signature it takes a second to fully comprehend and a bass line Paul McCartney would have paid a hobo street bassist fifty pounds for in a dark alleyway. Not bad for a silly little New Wave band, eh?
You can listen to all the songs from Jeffery's Waxing Nostalgic posts on the Waxing Nostalgic Spotify Playlist!