Published on December 10th, 2013 in: Blu-Ray, Comics, Current Faves, DVD/Blu-Ray Reviews, Movie Reviews, Movies, Reviews |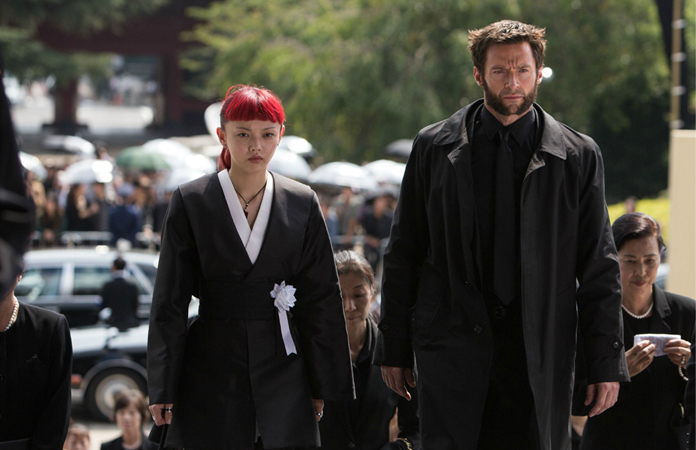 Although Batman, Superman, and even Spider-Man get a lot of attention, it's worth noting that Hugh Jackman has now portrayed Wolverine six times on the big screen. Unlike Supes and Spidey, Logan didn't ask for his powers and unlike Bruce Wayne, he doesn't necessarily want to vanquish the bad guys. This makes Wolverine one of the more compelling and consistent characters in cinematic superhero history. The Wolverine explores why.
Taking place after the events of X-Men: The Last Stand, The Wolverine can be enjoyed as a stand-alone chapter in the X-Men franchise. Logan is a hermit living in the Alaskan wilderness, trying to drink away many lifetimes' worth of painful memories, including those about love-of-his-life Jean Grey (Famke Janssen), whom he was forced to kill. An unexpected encounter with some nasty bear hunters culminates in a meeting with a mysterious fellow mutant who tries to reunite him with someone he'd saved during WWII.
Visually, The Wolverine is luxurious, thanks to director James Mangold (3:10 to Yuma), who creates a kind of modern Eastern Western. Much of the film was shot on location in Tokyo, and the cityscapes give the film an urgency that cannot be recreated with CGI. The use of color is also exceptional and there are some genuinely breathtaking wide shots that make the world of The Wolverine seem more real than even Chicago-as-Gotham-City.
Although the movie (based on 1982's Wolverine, written by Chris Claremont and illustrated by Frank Miller) is grittier and darker than say, Joss Whedon's Avengers film, it's not as bleak as the ones of the Nolanverse, which makes it feel like an actual comic book. This is due in part to the wonderful visual style of Ross Emery, who has worked on The Matrix franchise.
Yes, there are action sequences a-plenty in The Wolverine, but they all display both thrills and masterful camera work, and in the beginning of the film, they are nearly non-stop. Unlike Zach Snyder's Man Of Steel destruction overkill, they are never boring, instead helping you get invested in where the movie is headed. Part of this is due to the fact that such sequences aren't mere set pieces, but actually integral to the plot. There are ninjas and Yakuza in this film, and they have a role to play that isn't just window-dressing.
Another factor that helps The Wolverine stand out is the cast. Hugh Jackman is full of rage and he yells a lot, but he's also a broken man, and Jackman quickly convinces us of this. Notably, there are two women who help to remind him of his humanity. Yukio, portrayed by the elfin Rila Fukushima, is a superb fighter and can hold her own against both Logan and his would-be foes. Tao Okamoto portrays Mariko with both strength and vulnerability and her relationship with Logan feels totally organic and unforced.
There are subtle parallels and callbacks throughout the film that help The Wolverine to posses a gravitas that one might not have expected, especially after X-Men Origins: Wolverine. By setting the film in both urban and rural Japan and forcing Logan to leave his (dis)comfort zone, The Wolverine works both as a fish out of water tale as well as one of redemption and acceptance. It's also a hell of a lot of fun to watch.
The Wolverine was released on Blu-Ray December 3 by Twentieth Century Fox Home Entertainment. Special features include a theatrical trailer, an X-Men: Days of Future Past set tour, an engaging five-part featurette called "The Path of a Ronin," and an alternate ending (which should have been used instead of the theatrical ending).