Published on December 3rd, 2013 in: Current Faves, Music, Music Reviews, New Music Tuesday, Retrovirus, Reviews |
By Paul Casey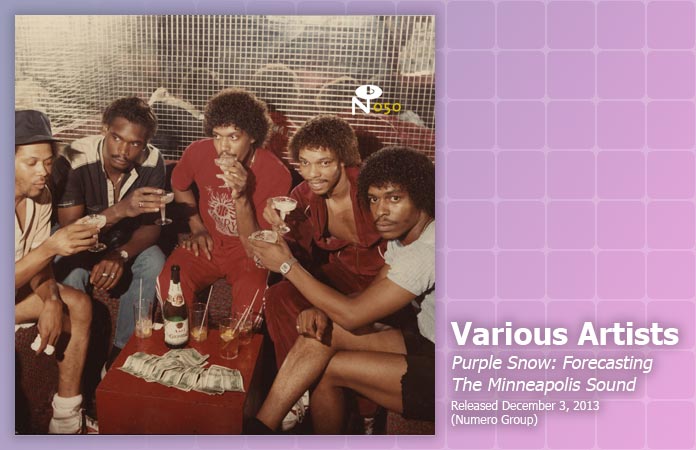 Purple Snow: Forecasting The Minneapolis Sound collects music from many musical outfits that helped shape the sound of the title. While the title is a nod to the importance of that miniature-sized and prodigiously talented man, the collection assembled by Numero Group has a broader interest. This is a work of love and commitment. It is a history lesson for those who think great artists are created in a vacuum. Everybody who has sat back and had a sob over the genius of Prince, Jimmy Jam & Terry Lewis, or Alexander O'Neal and assumed they came out fully formed, should have a listen to this compilation.
As mentioned in my review of the rather good Mind & Matter collection (review), the working assumption for any sensible person when approaching collections such as these is "cash-in." I don't need to hear something marginally related to the Purple One when I can listen to Around the World in a Day instead. I don't have to listen to demos by Jimmy Jam or Terry Lewis when I can throw on Cherrelle or Janet Jackson. I am happy to report that Purple Snow is not a cheat. It is not just an attempt to make dollaroos off of the name of big stars (though hopefully they will make some). Numero have put together a collection that overflows with love of a music scene that many have heard of but few are well versed in.
From the liner notes by Jon Kirby: "In the photo album of Minneapolis' extended musical family, the above-mentioned usual suspects appear only as the strongest swimmers in a talent pool teeming with notables." This is the mission statement of Purple Snow and it mostly succeeds in presenting the environment in which so many talented people flourished. Jon Kirby, Rob Sevier, and Ken Shipley have gathered music from folks like Alexander O'Neal, André Cymone, Flyte Time, the Jimmy Jam affiliated Mind & Matter, 94 East, and a bunch of other people you probably haven't heard of. A lot of the musicians featured on Purple Snow pop up on each other's tracks, suggesting the collaborative spirit that existed in Minneapolis in the late 1970s/'80s.
Purple Snow provides ample insight into the beginnings of some important and influential people, as well as others who had a lot to offer but never quite got their shot. The shortcomings of the collection result from its overreaching. Its brilliantly informative and slightly dizzying liner notes by Kirby trace the history of the Minneapolis Sound and cover its most important players, both known and unknown. That Kirby so successfully presents the facts and timeline of that deliciously smooth, spiky/synthy sound does somewhat reduce the pleasure of listening to the selections on the set.
After being made aware, for instance, of how Flyte Time's singer Cynthia Johnson left the group and recorded the vocals for Lipps Inc.'s "Funkytown" one does want to hear what went into that track. After many words are spent on the importance of Prince's For You and the songs which were recorded in the run up to his debut, you kind of want to hear how that fits in with the story.
This is obviously an unreasonable request, considering that such things are locked up and tied down to any number of record companies and artists. Obviously, given how notoriously protective Prince is of his unreleased material (at least these days) this was never a possibility. The musical net that Numero casts in the set-up is wide and the collection of tracks, though enjoyable—sometimes bordering on very interesting—suggests that a true representation of the Minneapolis Sound is better pursued by an individual without the burden of clearing tracks.
Prince does appear on a few tracks but never in such a way that allows for a particular eye on his musical development. When Kirby recounts the story of André Cymone and Prince listening to "raunchy comedy LPs," while "inventing new lewd lyrics to sing over them," the listener is told that this represented an important step in their songwriting. I want to hear that. I don't particularly care that he played lead guitar with 94 East.
Although the liner notes go to great pains to suggest that Prince was far from the only important musician in Minneapolis at the time, it is hard to argue against his still being one of the most important purveyors of the sound. Indeed, the notes detail how integral Prince's ambition and record deal were in shaping the fates—for good or bad—of many of the others presented here. In detailing the cause behind the exclusion of Alexander O'Neal from The Time, and the later firing of Jimmy Jam and Terry Lewis, Kirby affirms Prince's great influence:
"Prince suggested Flyte Time as possible collaborators. But at a meeting convened at a local Perkins restaurant, whilst polishing off a steak, O'Neal expressed financial concerns with the arrangement—he'd need "more paper"—at which point Nelson walked out, dismissing O'Neal from what became The Time."

"While moonlighting as the SOS Band's production unit, and on tour with Prince as members of The Time, Jimmy Jam Harris and Terry Lewis were grounded by an unlikely Atlanta blizzard, forcing them to miss a San Antonio date. Their resulting dismissal from The Time turned their studio hustle into their primary hustle."
This slightly unreasonable and unavoidable criticism aside, Purple Snow is a fine set and although I only had access to a PDF scan of the liner notes and some pictures of the full set, it is clear that this is the result of an obscene musical love. The photographs are of particular interest, setting the music in a time and place even if the listener is completely unaware of Minneapolis as a location. The scan of the yearbook showing a youthful Prince and Jimmy Jam gave me a hard chuckle.
While I did learn more about the Minneapolis Sound from Jon Kirby's notes than I did from listening to the music, Purple Snow is worth the time, especially when it brushes against Alexander O'Neal and André Cymone, who are too frequently undervalued by people who should know better. (Including me, who took a ridiculous amount of time to hook into how amazing Alexander O'Neal was!) The Cymone-written "I've Got My Eyes On You" for The Girls is a thrill. Hearing the tracks by Flyte Time also give a shot of good feelings, as did the already mentioned Mind & Matter. "Contagious" by Ronnie Robbins is probably my favorite on the set and comes from a character I knew nothing about.
In terms of introducing people to new music in this way and allowing a fuller appreciation of the context behind some of their favorite musicians, Purple Snow is likely to be a success. It is not the full picture and does not quite come through on its ambitions, but it is doubtless a loving tribute to the Minneapolis Sound and the people who gave it life.
Purple Snow: Forecasting The Minneapolis Sound is out today from Numero Group.