Published on November 30th, 2013 in: Canadian Content, Current Faves, Music, Music Reviews, Reviews |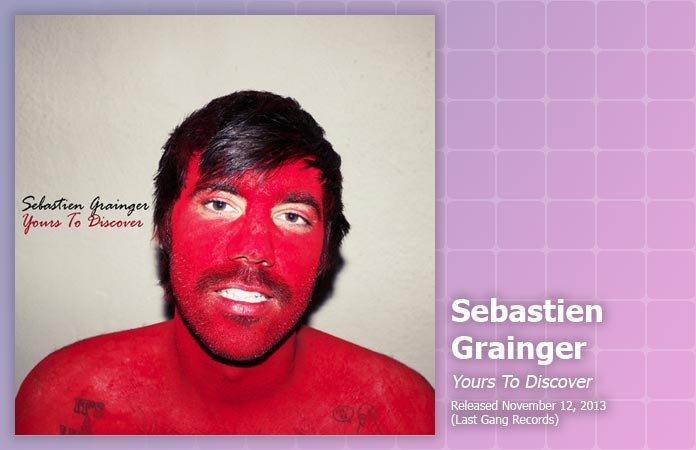 Sebastien Grainger's first album post-Death From Above 1979 included a band called The Mountains and established a distinctive musical style far removed from his work with Jesse F. Keeler (review). Five years later, Grainger has something new to offer—this time without The Mountains—and he's expanded his palette considerably, while still retaining some of what made that first solo debut so compelling.
If you haven't heard that first record, Grainger's knack for pop hooks may surprise you. If you have, Yours To Discover will surprise you all over again. It's a sometimes disconcerting, yet still engaging, straddling of the line between Grainger's pop sensibilities and his own interpretation of funk and R&B.
Although now based in L.A., Toronto-born Grainger chose the Ontario motto as the album's title, even attempting a truly weird version of the Canadian flag—starring himself and some red makeup—for the cover. Yet Grainger doesn't deal in Canadiana. The songs on Yours To Discover could be written about any place, but they all focus on love. This is most obvious on the extremely catchy "Going With You" (the album's first single) and "Second Of Love." Both of these should be hugely popular on the radio and "Going With You" could easily be used in a commercial. They're anthemic, yes, but a bit generic, which is disappointing after an album as original as the one from 2008.
The rest of the album, thankfully, is much better (with the possible exception of the goofy "I Want Sebastien Grainger"). The sexy "Your Body Works" is an unexpected R&B-flavored treat that owes a lot to Michael Jackson. Both "Waking Up Dead" and "The Streets Are Still A Mess" display Grainger's unique sound, but "I'm Looking For A Hand" is the album's standout track, with its introspective lyrics and contrasts of sound between acoustic guitar and synths, not to mention Grainger's gritty vocal delivery.
Grainger's best instrument, despite his impressive work on the bass guitar, is his absolutely remarkable, melismatic voice, which he shows off gloriously on "I Don't Believe in Ghosts" and "Some People Are Ghosts Too Soon," both of which are excellent.
Yours To Discover opens with an Overture and ends with a Finale, which presents the album like a cohesive work, but it's hard not to feel like it's a bit half-assed. I admit, as much as I enjoyed Death From Above 1979's music, I truly love that Sebastien Grainger & The Mountains album and still listen to it frequently, five years on. It would have been more interesting if Yours To Discover had fully explored Grainger's obvious adoration for R&B and funk instead of his ability to knock out catchy, but lightweight, tunes.
Grainger admitted recently: "My priority in my career right now is Death From Above. Doing stuff on my own is fun, but it's super lonely." (The proposed DFA1979 album still has no release date.) This would explain why Yours To Discover feels less polished and assured than Grainger's previous solo work.
It's an album full of questions, both lyrical and musical, like someone on the cusp of something greater that he hasn't quite attained. While I completely understand Grainger's decision to focus on the band that gave him the freedom to make an album like Yours To Discover, I can't help feeling like doing so is a step backwards.
Yours To Discover was released by Last Gang Records on November 12.