Published on November 30th, 2013 in: Culture Shock, Current Faves, Feminism, Music, Music Reviews, Retrovirus, Reviews |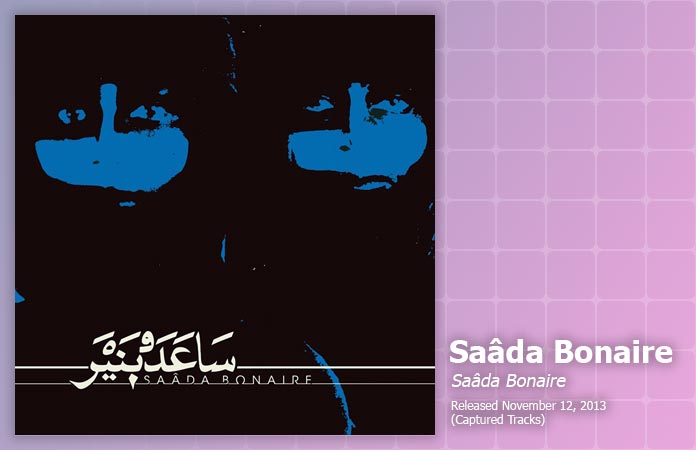 There's a lot to be said about the decidedly bizarre time capsule that is Saâda Bonaire. They weren't so much a band as an experiment, but one that definitely pays off.
In 1982, Bremen DJ Ralf Behrendt, a.k.a. Ralf von Richthofen, embarked on a musical project that he hoped would replicate something akin to the influence Caribbean and Indian music was having on British pop. Behrendt had an exposure to and fascination with Turkish music due to his work in the German government's immigration department. He enlisted local Turkish and Kurdish musicians, as well as his then-girlfriend Stephanie Lange and her friend Claudia Hossfeld (who both wrote the songs), to create Saâda Bonaire.
Thirteen tracks were recorded for EMI in Kraftwerk's Studio N with producer Dennis Bovell, including "You Could Be More As You Are" as the intended single. But then, it all hit a snag.
According to the press release:
Saâda Bonaire's A&R man [Michael F.] was notoriously famous for exceeding his budget. He spent triple his allowance on Saâda and was warned not to do it again. His next project was Tina Turner's "Private Dancer." As "Private Dancer" shot to number one in Germany, the finance department couldn't lay a finger on Tina. Instead, they pulled the plug on all promotional support for Saâda Bonaire and cancelled all future plans for the project.
Now, thirty years later, Saâda Bonaire finally gets a proper album release. So what does it sound like? Imagine if Japan had been more taken with Middle Eastern music than Asian and you're getting closer. The music is an odd blend of artsy Europop, Eastern influences, and deadpan vocals from Claudia, like Marlene Dietrich fronting a New Romantic band and singing stream-of-consciousness lyrics.
In addition to of-the-time instruments like chilly synths and drumbeats, there is a preponderance of meaty bass riffs thanks to Frank "Opa" Ullrich, as well as saxophone from Charlie Mariano. The Middle Eastern sounds are more than an influence, with instruments like the bağlama and oud taking center stage on many of the tracks.
"You Could Be More As You Are" opens the album, encapsulating everything that makes Saâda Bonaire interesting in six minutes. But there's more.
The danceable "Invitation" is less catchy than it is hypnotic, with a sound not unlike early Pet Shop Boys. There's a wailing female vocal in the background courtesy of Turkish singer and belly dancer Sibel Can that blends beautifully with the instrumentation.
With "Little Sister" things start to get a tad ridiculous, but with time and closer attention, the song—as well as the entire rest of the album—will grow on you. The songs are somewhat erotic in nature, but not explicit, such as the ambisexual "More Women" and the moaning and sighing heard in "Shut The Door."
Both "I Am So Curious" and "The Facts" have an almost industrial flair, while "Second Face" sounds like snake charmer music. The Soft Cell vibe in "Heart Over Head" is charming and unexpected, as are the reggae-influenced "Wake Up City" and "You Touch," the latter of which features Stephanie on lead. It's poppy and lighthearted and could have easily been a single, sounding similar to what Bananarama was doing with Fun Boy Three at the time.
"Give Me A Call" is more obviously textured than the other songs, with a mixture of heavy beats and acoustic segments. By far the most experimental of all the songs is "Joanna," opening with ocean waves and a bluesy beat, and ending with echoey, shrieking vocals. This would not have gotten feet on the dancefloor, but it sure is good.
Saâda Bonaire is genuinely bizarre, yet captivating, and at times may cause you to wonder if the music is brilliant or terrible, but that's just because the mixture is so unique. It's a pity that they didn't get the airplay and recognition they deserved.
Saâda Bonaire was released on November 12 by Captured Tracks. For more details on the background of Saâda Bonaire, check out these articles on Dazed Digital and Test Pressing.