Published on November 29th, 2013 in: Art, Kickstarter Campaign, Movies, Underground/Cult |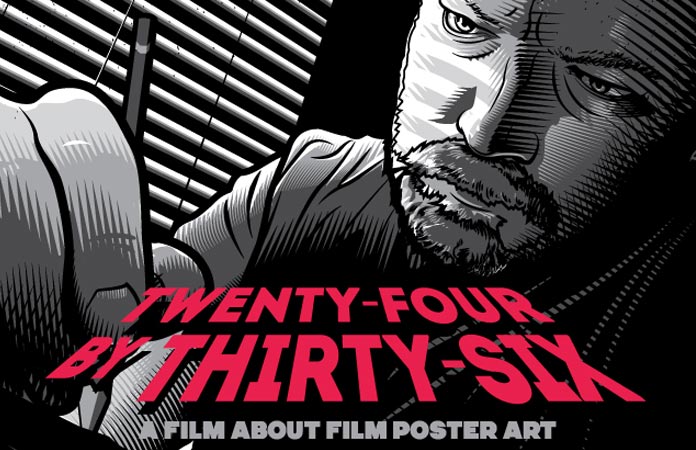 If you're a member of the movie superfan community, you know that it's not just the movies we love to obsess over, it's everything associated with those movies, from quotes, to the name of the set designer, to the poster art. You've memorized the poster art (and variants) of your favorite movies. You know all too well that the Mondo limited edition screen prints of movie posters sell out almost immediately and that those lucky enough to acquire them often sell them for hugely inflated prices online. And you definitely know the names of the artists who've created these posters.
Now there's a documentary called "Twenty-Four by Thirty-Six" that "explores the world of movie poster art, past and present; the artists who create it, companies that commission it, galleries that display it, and collectors and fans who hang it." But in order for this doc to come to fruition, they need our help and they've launched a Kickstarter to do so.
"Twenty-Four by Thirty-Six" not only follows a couple of fantastic illustrators, but also profiles some well-known artists and personalities in the screenprinted poster community (like Tony Seininger, Gary Pullin, Jason Edmiston, Phantom City Creative, Kevin Tong, Tim Doyle, N.E., Paul Ainsworth, and many more), and talks to fans and collectors.
Besides knowing that you helped contribute to the completion of this documentary, what's in it for you? There are lots of rewards, from having your name listed in the credits, to a digital download, T-shirts, DVDs, Blu-Rays, various versions of the film poster (including a glow-in-the-dark version), a signed John Alvin Alien poster, a private screening of the film at a BBQ with the director, and lots more.
The Kickstarter ends on December 21 and right now they haven't reached their goal of $25,000. So check out "Twenty-Four by Thirty-Six" on Kickstarter and get to donating!