Published on November 26th, 2013 in: Culture Shock, Current Faves, Music, Music Reviews, New Music Tuesday, Retrovirus, Reviews |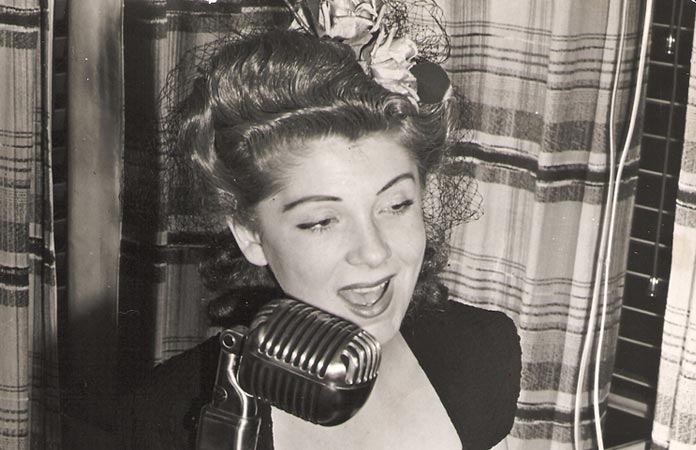 Ruth Wallis
The Idelsohn Society For Musical Preservation has an important mission: to look at Jewish history and the Jewish experience through recorded sound. Their motto: History sounds different when you know where to start listening. With their two CD set It's A Scream How Levine Does The Rhumba: The Latin-Jewish Musical Story 1940s-1980s, they have created an important document that explores the connection between Jewish and Latin music. With vast liner notes, essays, archival photos and ephemera, it is a fascinating compilation.
It's A Scream How Levine Does The Rhumba is surprisingly varied despite its narrow scope. There are Latin artists doing Jewish songs and Jewish artists embracing Latin beats. There are novelty songs from the early 20th century, disco beats, straight-up funk, and blazing salsa tunes.
The title comes from a Ruth Wallis track. I would like to thank the Idelsohn Society for introducing me to Ruth Wallis, who in the liner notes is called the "potty-mouthed mistress of the double entendre." Her songs were banned in Boston! "It's A Scream How Levine Does The Rhumba" is a wickedly funny song—bawdy and naughty—and Wallis sings it in such a pure, sweet voice that it seems all the naughtier.
"Arriba (Part 1)" from the comedy duo The Barton Brothers (not actually brothers), slips between Spanish and Yiddish. These saucy double entendres are backed by the Irv Carrol Orchestra. The novelty songs, like Irving Kaufman's "Moe The Schmo Takes A Rhumba Lesson" (which is digitized here from the 78 rpm record), are backed with such wonderful, capable orchestras, they are elevated beyond simple novelty. They are, like satire, a historical document.
"Mambo Shevitz" by The Crows with Melino and his Orchestra is a riff on a midcentury Manischewitz wine commercial. A blend of R&B and Mambo, sung by a pioneering doo wop group, it's charming and the lead singer has a captivating voice. The fantastically propulsive "Matzoh Ball Meringue" by Puerto Rican pianist Johnny Conquet, His Piano & Orchestra is a gorgeous, exciting delight with bleats of muted trumpet over amazing piano.
Cuban-born percussionist Candido's version of "Cheek To Cheek" explodes with a wild conga break and Al Cohn's silky sax solo. It is deliriously good. The La Plata Sextette's ode to Catskills nightlife rocks with lively horns and electric guitar, and feels very cutting edge.
"Hava Nagila" is a favorite to explore. Perez Prado's "The Twist of Hava Nageela" has an almost surfy rhythm, sure to drive feet to a dance floor, and a striking horn section. Dominican pianist Damirón turns in a giddy version of "Hava Nagila" thanks to his lightning-fast fingers on the keys. Arguably the best, though, is Celia Cruz Con Orquestra's "Hava Nageela." Her voice is magnificent and powerful and it is a simply stunning version. You'll never hear it the same again.
"Ghetto Brothers Power" from the Ghetto Brothers (a gang from the South Bronx involved with the Puerto Rican Socialist Party. The liner notes are fascinating, really. So much information.) is blistering thick with funk and thrilling. Vibraphonist Harvey Averne's "Cucaraca Macara" rocks and is funky at the same time, with a forceful chorus and wailing guitar.
The progression from novelty songs to jazz to funk is vivid in It's A Scream How Levine Does The Rhumba. It's an auditory timeline, in addition to being an historical document of the connection between the Jewish and Latin musical communities. It's a carefully curated labor of love for the Idelsohn Society, and it makes for fascinating listening and reading (seriously, the liner notes are about 40 pages!) about a little known facet of past popular music.
It's A Scream How Levine Does The Rhumba: The Latin-Jewish Musical Story 1940s-1980s is out today from the Idelsohn Society For Musical Preservation.