Published on November 14th, 2013 in: Blu-Ray, Current Faves, DVD/Blu-Ray Reviews, Feminism, Movie Reviews, Movies, Reviews |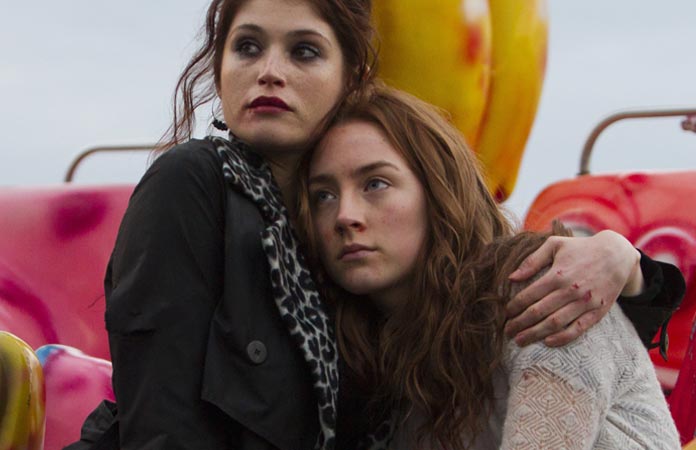 I think it's safe to say that Neil Jordan has a fondness for vampires. Byzantium is his second film about them, and although I haven't seen Interview with the Vampire in a long time, I feel confident in stating that Byzantium, while dealing with similar themes, is superlative in every way.
Byzantium, like Interview, is based on a previously published work, this time Moira Buffini's play A Vampire Story, which she adapted for the screen. There are definite influences from Anne Rice's novel, such as would-be villains with mysterious motivations, ancient secret societies, and the burden of immortality. Byzantium, however, dispenses with the camp elements instead adopting a passionate, yet gritty, tone that makes these characters seem more human than vampire.
The film is slow going in the beginning, and for the first half hour or so, appears to be little more than Saoirse Ronan (who portrays Eleanor) looking forlorn and Clara (Gemma Arterton) acting strident. Once it gets going, however, everything you thought you knew about what kind of movie Byzantium was going to be changes dramatically.
Eleanor and Clara are on the run from a murder that Clara committed but we don't know who or why but she is insistent upon keeping it from Eleanor. Along the way they encounter Noel, a sad sack with mother issues, and Clara seduces him into letting her turn his family's abandoned hotel into a brothel. If it sounds lurid, that's because it is, but Jordan's penchant for evocative location shoots, color, and music make it far more emotionally plausible than it comes across on paper.
As Byzantium progresses, there are flashbacks, but rather than coming across as lazy shortcuts, they flow naturally from Eleanor's need to keep the past alive as a way to mark time. Living a lie for two centuries has taken a toll on her and she wants to unburden herself as much as Clara wants to wash the past away. When Eleanor meets Frank (Caleb Landry Jones), things get more complicated.
It's hard to convey a human/vampire romance well but Byzantium does. Like Xan Cassavetes's Kiss of the Damned, the metaphor of bloodlust for female sexuality is clear, but rendered without prurience, especially since Eleanor was raised in a convent's orphanage. As Frank, Jones is outstanding, and his screen presence is swoonworthy, like a young Willem Dafoe with the eyes of a wounded lamb. His scenes with Ronan, while technically chaste, are intensely romantic.
As Clara's history is revealed, the complexity of her character begins to unfold. Arterton owns this role like she was made for it, by turns tender and savage. Likewise the seemingly fragile Eleanor displays a frightening strength, and Ronan's ability to shift from threatened to threat is subtle but powerful.
Rather than just making vampirism a synonym for female desire, Byzantium examines gender roles and power struggles through the lens of history. These vampires are killers, yes, but they are also heroines, because they have taken control of their fates. Byzantium is a welcome addition to the canon.
Byzantium was released on Blu-Ray via IFC Films on October 29. Special features include interviews and a theatrical trailer.