Published on November 13th, 2013 in: Books, Current Faves, DVD, DVD/Blu-Ray Reviews, Movie Reviews, Movies, Reviews |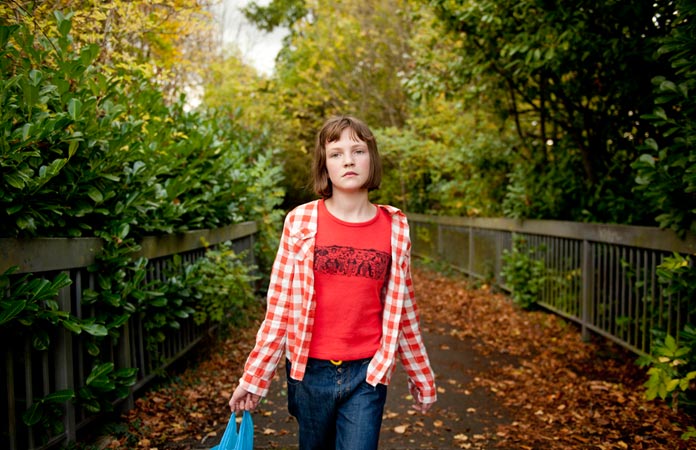 Broken is an apt title for director Rufus Norris's feature debut; viewers will be forgiven if they have a hard time choking back sobs by the end. It's not all doom and gloom, however. Broken's superbly arranged 90 minutes evoke a concatenation of emotions. Certainly there is much chest-constricting dread to be found in the film, and many scenes heavy with emotional baggage, but these are often simultaneously buoyed with moments of exquisite gossamer beauty and unbridled humor, reminders that joy can be ephemeral and often intertwined with grief.
Though I have not read the Daniel Clay novel upon which it is based, it seems fitting that screenwriter Mark O'Rowe should have taken it on, given his history of successfully juggling multiple characters and integrated storylines in films like Intermission and Perrier's Bounty. The melodramatic convergence of tragedy towards the end of Broken might strain the credulity of its cinematic format, but it's accomplished with such sincerity it feels unkind to give that factor too much negative attention.
At the center of Broken's web of intimately and intricately connected characters resides Skunk Cunningham, brought to jaw-dropping believability by young actress Eloise Laurence, who also sings two songs in the film's soundtrack with the kind of delicate force that encapsulates so much about her character and so much about what it's like to wobble on the precipice between childhood and adulthood.
Skunk witnesses an act of violence outside of her home, which is set in the middle of a cul de sac. While this ignites the chain of events in the film from a narrative perspective, it becomes immediately clear that trouble has been slowly simmering in her immediate neighborhood for a while. Norris and editor Victoria Boydell utilize a unique flashback style that immediately revisits key scenes from slightly different perspectives as well as somewhat earlier points in time. It's an effective mimicry of the frailty of human memory as well as a potent way to present multiple points of view.
This editing style carries over into the unfolding of events. There are few establishing shots, with the viewer being thrust into the middle of a scene, often constructed of mundane activities like card games or classroom discussions. The lack of emphasis on any one triggering factor for the brutality that reveals itself throughout the course of the film heightens the tension and raises the stakes without the typical filmic signifiers viewers have been conditioned to accept.
Broken also strings scenes together in such a way—both visually and with sound bridges—to emphasize the interconnectedness of the various families depicted in the movies but does not create false parallels. There are a few shots that are similar from a purely formalist perspective but this only serves to heighten the idea that there is nothing else binding the Oswalds, the Buckleys, or the Cunninghams but geography and existence.
Despite the tightly woven nature of the tragedies taking place in Broken, there are a lot of characters to take in, but the film never feels overstuffed. All of the cast members are outstanding (especially Tim Roth and Rory Kinnear, not to mention all of the child actors), but no one turns in a showy performance calculated to be awards-bait. Eloise Laurence deserves special recognition, though. Her performance recalls other young actresses who revealed staggering promise at a tender age, like Jodie Foster in Taxi Driver or Natalie Portman in The Professional. That Mike (Cillian Murphy) describes her character as a "terrific kid" who'll "someday blow us all away" feels completely on the mark.
Broken is a film that will stay with you, but it doesn't preach or offer up any ponderous, unwelcome truisms about life. For all of its emotional resonance, it is still a film about average people and their inability to adapt to the condition of humanity. That such a seemingly basic tenet of existence remains so far out of the reach of so many, makes Broken a singular and remarkable film.
Broken was released on DVD through TVA Films on November 5.