Published on November 5th, 2013 in: Current Faves, Music, Music Reviews, New Music Tuesday, Reviews |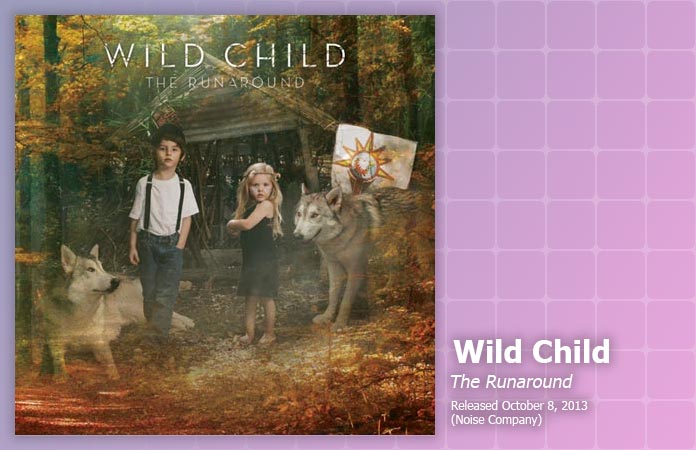 Wild Child's sophomore effort, The Runaround, is one of those pleasant surprises that make listening to a band I'd never heard of so exciting. It's a quirky, clever slice of Americana, crisply produced by Ben Kweller, and so eminently listenable, it's been on constant rotation for a week now.
The Runaround is a cohesive album; from the title (and lead-off) track to the last, it evokes a universe that the band has created and inhabit. Kelsey Wilson's clear, versatile voice drives their sound, and when you hear her, you will be amazed that she hadn't sung in front of anyone before Wild Child began. She has a one-of-a-kind voice: wildly versatile, rich, and completely gorgeous.
The title track is a hooky delight with plinking piano and cello. The harmonies are delicious. In fact, the harmonies throughout the album (between Wilson and ukulele player Alexander Beggins) are sweet; you can hear their chemistry when they sing together, especially on "Crazy Bird," a wry song with a neat horn break. The bittersweet "Coming Home" begins tenderly with their voices in harmony over acoustic guitar, then ramps right up.
Exquisite violin playing with impressively picked banjo highlight "Stitches." Kelsey Wilson lets fly with gutsy vocals on the loose and boozy, gleeful and joyous track. The delicate "Here Now" is painfully pretty, evocative of a quiet summer's day. Wilson's harmonies with herself are lovely. Up tempo with surging percussion, "Living Tree" has great, off-kilter rhythm to the verses. Wilson's voice soars, but she has great command at the same time. "Rillo Talk" is splendid, and feels expansive because of the liberal use of strings.
The Runaround is a hidden gem in your record store. It feels old, ancient, rooted to the earth, but also lively and current and exciting. Wild Child has made a ridiculously catchy, joyful, and wonderful album.
The Runaround was released October 8 through Noise Company.
Tour Dates:
11/10: Austin, TX: Fun Fun Fun Fest
11/15: San Diego, CA: Soda Bar
11/17: Los Angeles, CA: The Echo (Early show)
11/19: San Francisco, CA: Brick and Mortar
11/21: Salt Lake City, UT: Kilby Court
11/22: Aspen, CO: Belly Up
12/10 Nashville, TN: The High Watt
12/11: Charlottesville, VA: The Southern
12/12: Washington, DC: The Black Cat
12/13: New York, NY: Mercury Lounge (Early Show)
12/14: Fairfield, CT: Stage One
12/15: Boston, MA: Great Scot