Published on November 5th, 2013 in: Current Faves, Music, Music Reviews, New Music Tuesday, Retrovirus, Reviews |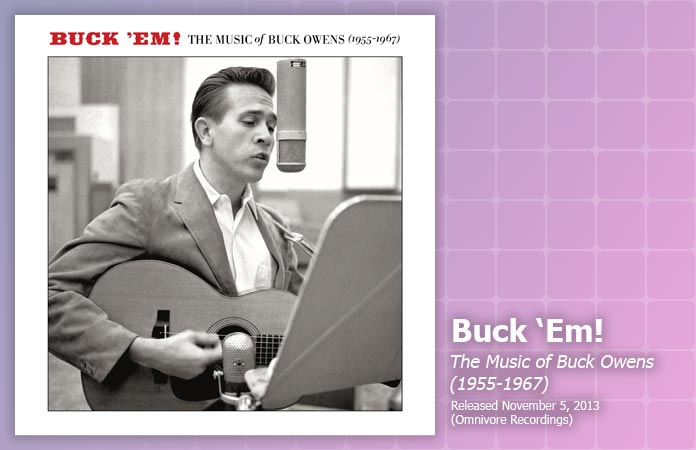 A sticker on the front of the CD proudly proclaims that Buck 'Em! The Music of Buck Owens (1955-1967) isn't your father's Buck Owens collection, and it certainly isn't. The hits are here, of course, but so are alternate takes and live tracks, as well as unreleased music. For a completist (like, say, me), it's a treasure. With voluminous, entertaining liner notes written by Buck Owens himself (culled from his upcoming autobiography, also titled Buck 'Em) (which is pretty impressive, especially since he passed away in 2006) (which is some Tupac level of productivity right there) it's a chronological trip through the Buck Owens catalogue, and what a catalogue it is. Buck Owens and his Buckaroos made so many records, with so many catchy songs that it amazes me that they aren't revered in the same way as Johnny Cash or Willie Nelson.
Buck and the Buckaroos had a completely distinctive sound. Purveyors of "The Bakersfield Sound," their music was a push back against the slickly produced, string-drenched country music of the '50s. It was music to be played in honky tonks, to get people on the floor, to make you sit up and take notice. It sounded a bit like rock and roll, hard-edged and driving, though the pedal guitar kept it firmly country.
In the liner notes, Buck doesn't claim to have created "The Bakersfield Sound" but he relates the story of the creation of the "Buck Owens Sound." In a '57 Cadillac, on the way to the recording studio, Owens's frequent collaborator, Dusty Rhodes, suggested that Buck's new fiddle player, Don Rich, sing along with Buck in the car. Rich matched Owens's unique phrasing with his harmony, and as Buck writes, "He came in at exactly the right times. If I slurred a word, he slurred the same word in harmony with me. He had the greatest ability to anticipate that I'd ever heard in my life. I swear to you, somehow he could tell—even that very first time we sang together—what I was going to sing and how I was going to sing it."
Don Rich was one of the greatest sidemen to play in any genre. His harmonies, clear and pure, coupled with his great talent for fiddle and guitar, make him a gift to music. On Buck 'Em, some of the most notable things on any song are his inventive, amazing guitar solos. He (and Buck) weren't afraid to dip into other genres to get inspiration. In the liner notes, Buck writes that on early songs, he can't tell if it's Buck overdubbing harmonies with himself, or Buck and Don. He wasn't listening hard enough, I imagine. You can always tell a Don Rich harmony.
And what harmonies they were! From "Foolin' Around," or "Down To The River" with it's nice clickity drum sound, or "My Heart Skips A Beat" which appears here as an early version that Owens wasn't crazy about (in his defense, it was a bit lethargic compared to the final take), you can't help but admire the harmonies of Buck Owens and Don Rich. The beginning of the sad, honky tonk "Don't Let Her Know" has unusual phrasing and a nice ascending fiddle line, and the harmonies are tight. "Truck Drivin' Man" has three part harmony and Buck's strange, tremulous pronunciation of "semi."
I do love the way that some words were sung by Buck Owens. His "el-ver" and "nel-ver" in "How Long Will My Baby Be Gone" and "(I'll Love You) Forever and Ever" nelver fail to make me smile. The way he sings "lamb" in the classic "Tiger By The Tail" is inimitable.
The Buckaroos were such a wonderful, wildly gifted band. They were invited to play at Carnegie Hall and recorded their sold out show (it sold out weeks in advance). The result doesn't even sound live: "Together Again" and "Buckaroo" are played so cleanly and perfectly, yet still with excitement and liveliness, that they are glorious. "Buckaroo" in particular is an instant mood elevator. They recorded another live album in Japan, and the track "Adios, Farewell, Goodbye, Good Luck, So Long" from that album is classic Buckaroos. Don Rich's "chicken pickin'" style of guitar picking as well as the sweet harmonies on the humorous chorus makes it a great listen.
The alternate take of "Where Does The Good Times Go" shows us that Buck Owens was certainly on the right track in not wanting strings on his records. The violins backing the always-awesome Buckaroos are superfluous, lending a pointless gloss to a record that certainly doesn't need to sound like the other pap that was being produced in Nashville at the time.
Of course, Buck did adhere to some country conventions. He recorded the requisite gospel album (Dust On Mother's Bible) as well as a Christmas album. His gospel song "Pray Every Day" is surprisingly upbeat and jaunty, and a bit reminiscent of "Tiger By The Tail." "Santa Looked A Lot Like Daddy" from his charming Christmas record actually rocks and is a companion piece to "I Saw Mommy Kissing Santa Claus."
Buck 'Em is a delightful compilation of Buck Owens rarities and classics. It's a great album to start an exploration of a sadly underrated classic country god, and it's enjoyable and listenable. Buck and the Buckaroos back catalogue is littered with gems, some of the greatest country music there was. This is a delightful start.

Buck 'Em! The Music of Buck Owens (1955-1967) is out today from Omnivore Recordings.