Published on November 1st, 2013 in: Current Faves, Music, Music Reviews, Retrovirus, Reviews |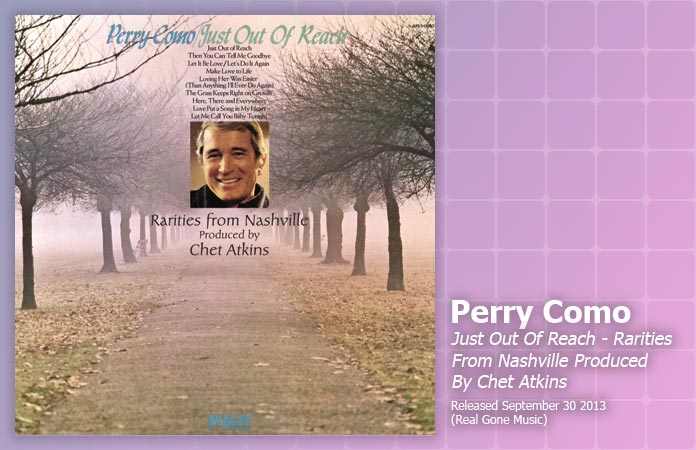 Some days, Sundays in particular, all I really want is the musical equivalent of a fluffy blanket and a nice cup of tea. Real Gone Music's new Perry Como release, Just Out Of Reach—Rarities From Nashville Produced By Chet Atkins is a CD full of fluffy blankets and cups of tea: soothing and warm and pleasant.
Perry Como had a musical career for over 50 years. His natural, easy singing style served him well as he performed in a variety of vocal genres. When the British Invasion hit the US shores, though, Como went through a two-year dry period in which he didn't record. Heads of his label, RCA, concocted a plan to alleviate that and enlisted Chet Atkins to help "smooth the edges of country music" to make it more palatable in the pop world and for Como. The result was the successful The Scene Changes, providing Como with his biggest selling album in years. Not content to rest on their laurels, RCA again joined Atkins and Como together in Nashville for another stab at country/pop crossover glory, and the result of that is Just Out Of Reach.
Released here in its entirety with copious bonus tracks (outtakes from the recording sessions, non-album single releases, and Spanish-language recordings), Just Out Of Reach is not the most exciting record in the world. It is some seriously easy listening. There are numerous ballads, like a nearly narcoleptic reading of "Then You Can Tell Me Goodbye" and "Let It Be Love." His interpretation of the Beatles' "Here, There and Everywhere" is gentle and quite lovely. "The Grass Keeps Right On Growin'" starts deceptively jauntily and becomes soul-crushingly sad. His reading of Kris Kristofferson's "Loving Her Was Easier (Than Anything I'll Ever Do Again)" is elegant and smooth.
There are so many ballads that the songs that aren't ballads are freakishly exciting. The outtake "Yellow Beach Umbrella" is joyous and catchy with changes of mood and tempo and according to the liner notes, is the "most sought after items in the Como canon." "Love Looks Good On You" is another memorable up-tempo charmer with quick lyrics, a departure for Como. "Walk Right Back" was a top 10 hit for the Everly Brothers, and Perry Como's version is locomoting and jaunty. The Don McLean penned "Wonderful Baby" is lively and sweet. These are all so refreshing after ballad after ballad.
The ballads aren't bad, they're just terribly unexciting. And there are so many of them. But as the equivalent of comfort food, some people dig ballads. Certainly, Just Out Of Reach delivers the comfort.
Just Out Of Reach—Rarities From Nashville Produced By Chet Atkins was released on September 30 by Real Gone Music.