Published on October 29th, 2013 in: Current Faves, Feminism, Music, Music Reviews, New Music Tuesday, Retrovirus, Reviews |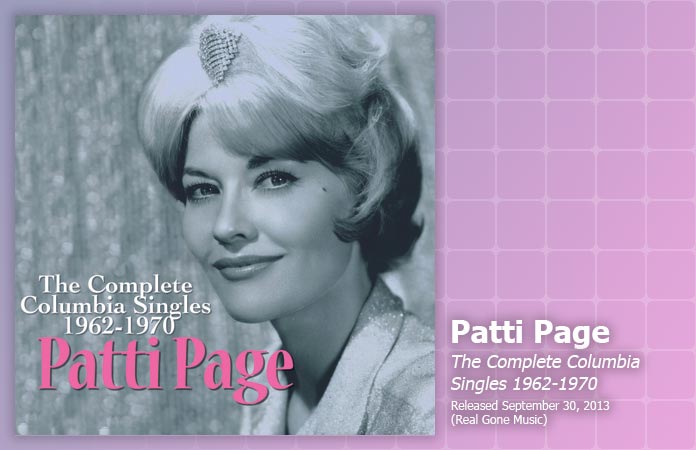 The fine folks at Real Gone Music have released a definitive compendium of Patti Page records recently. The Complete Columbia Singles 1962-1970 does just what it says on the tin, and paints a portrait of an artist who was prolific and gifted, having a career that spanned seven decades. The photo of Patti Page on the front cover is strikingly beautiful and inside is a two-disc set with copious liner notes that mark the date of release of each song and their various chart positions.
While Page was ubiquitous on the Billboard charts in the 1950s, being the #2 artist of that decade, the liner notes caution us to not think of her in that way solely. In the '60s and '70s, she branched out, charting numerous times on the Easy Listening charts as well as the Country charts. The Complete Columbia Singles covers many of those hits.
She was, of course, a consummate performer, with an astounding voice. On "Pretty Boy Lonely," she takes a teasing tone and ends with a growl for the sassy, swinging tune. Her register on "Say Wonderful Things" is warm and low. "I Knew I Would See Him Again" has a lovely descending guitar line and sweet harmonies. Harmonies are also tight on the rocking "I Adore You," where Page delivers lyrics rapid fire.
The Russian inflected "Drina (Little Soldier Boy)" is driven by a militaristic drumbeat and Page's superb vocals. "Days Of The Waltz" is a charming cover of the Jacques Brel classic, quick and polished. "Ribbons and Roses" is a dark song of unrequited love with edgy organ and guitar, a theme she revisits on "This Is The Sunday."
A pair of Christmas songs from Christmas With Patti Page—"Happy Birthday Jesus (A Child's Prayer)" and "Christmas Bells"—are a study in contrast. "Happy Birthday Jesus" is spoken word over backup singers singing "Silent Night" without actual words. It's odd. Much better is "Christmas Bells" with children singing backup and the giddy, thrilling feeling of Christmas.
"Till You Come Back To Me" is stomping, girl-group pop without the other girls being in the group. "It's The World Outside" visits that genre as well, with strange, but appealing, harmonies on the chorus and epic mid-'60s pop.
Patti Page had many hits on the Billboard Country singles chart. Her version of Glen Campbell's "Gentle On My Mind" is lively and pretty. "All The Time" is an elegant take on the classic. Her cover of Tammy Wynette's "Stand By Your Man" is unfortunately bombastic and just not great.
There are a couple of strange ditties, the kind that wallow in glurge and misery. "Custody" charted on the Easy Listening chart. It features disturbing, high harmonies and is mostly embarrassing spoken word about, of course, a custody agreement. It's awful. Plumbing the depths of awful as well is "I Wish I Had A Mommy Like You, " in which someone really should call CPS for that poor child, because clearly all of the adults in his life are failing him. And adulterers.
The Complete Columbia Singles 1962-1970 is certainly a lot of Patti Page. It's a mixed bag of songs, a grab bag of styles and genres. She is always a superlative vocalist, though some of her song choices were a bit dodgy.
The Complete Columbia Singles 1962-1970 was released September 30 through Real Gone Music.