Published on October 29th, 2013 in: Current Faves, Music, Music Reviews, New Music Tuesday, Reviews |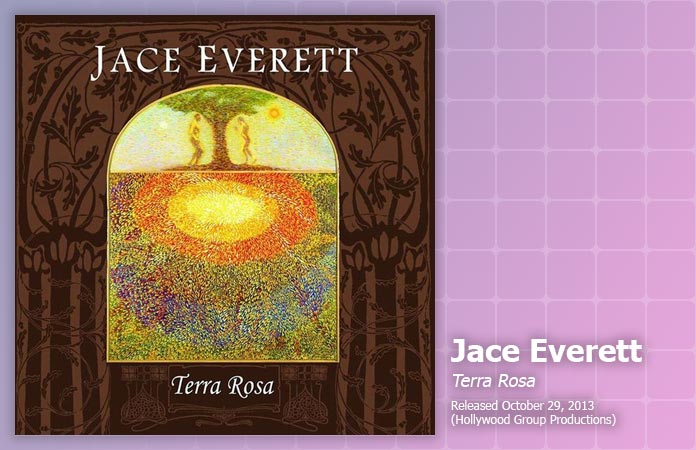 Not content to be known solely for the theme to True Blood, Jace Everett has recorded a wildly ambitious, brave album based loosely on Biblical stories. Lest that turn you off, they're opaquely Biblical, and not preachy. They're personal examinations of sin and strength. And they're quite good. I will admit, as a heathen, that I puzzled over what stories the songs were about, drawing on my childhood Sunday school attendance. I came up short on most of them. That didn't affect my enjoyment of the record, but it did make me listen harder and write down snippets of lyrics to decipher later. Which I didn't.
What I completely loved about Terra Rosa is Jace Everett's changeable voice. He's a chameleon, dipping into loads of genres, and handling each of them like he was born to it. The cheerful "Pretty Good Plan," about good intentions paving the road to hell, draws on his country twang. On "In The Garden," awful female backing vocals can't hide his great rock voice. You can tell what effect he was attempting with the lady singers, but it doesn't quite work.
When Everett lets rip, his voice is incredibly powerful. The sparse, back roads country stomper "Pennsylvania" blows the doors off. "Beyond The Wall" shows us his soulful, searching side. With the slow burn "Love Cut Me Down," his falsetto sounds positively testosterone-dripping—no small feat.
I actually twigged what story "The Great Fish" was based on, and felt quite proud, thank you. No one forgets about the big fish. This version is powerful and driving, with mighty guitar. Like a big fish. With a guitar.
My favorite track, though, is the cracking "Lloyd's Summer Vacation," a fast-talking trip through Sodom and Gomorrah alongside Lot and the fam. It is loaded with great, evocative lyrics like "Folks greased up their little torches/and they pitch forked 'round the house" and "while his giggling girls, they twittered down the hall" alongside sultry tempo shifts. The lyrics are so good that I want to quote all of them here. Jace Everett has helpfully put the lyrics on his website, so do go there and prepare to be flabbergasted by his brilliance.
Terra Rosa is compelling, obtuse, and personal. Jace Everett has crafted a record that is so honest and thoughtful, it deserves to be heard. Will this be the album that is his next big breakthrough? I certainly hope so, though on the surface, an album of Biblically based songs is a hard sell to the general public. However, it's a strong record, and he is not only a gifted lyricist, he's a damn fine singer.
Terra Rosa is out today on CD and vinyl through Hollywood Group Productions. You can also purchase a digital copy on Jace Everett's website.