Published on October 25th, 2013 in: Music, Music Reviews, Reviews |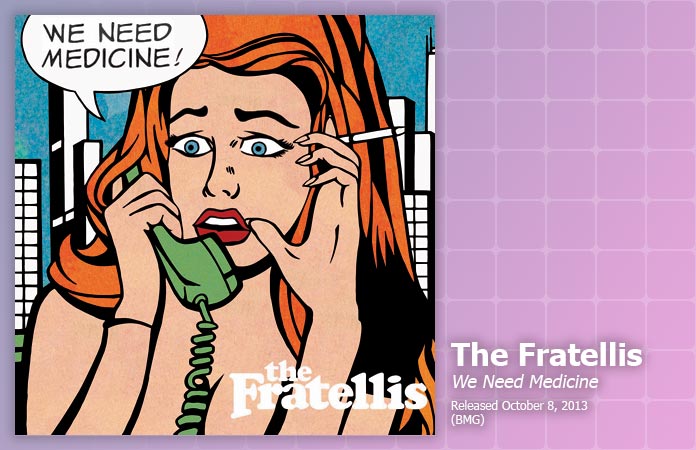 After a five-year hiatus, The Fratellis have returned with their third album, We Need Medicine. It attempts to be a return to former glory, but it falls painfully short. The songs aren't as punchy as the ones on their surprising debut, Costello Music, or even its follow up, Here We Stand. Jon Fratelli's voice is still brilliantly distinctive and compelling, and the guitar riffs are as crunchy as always, but the songs start with bombast and furor and then peter out to . . . not much. It's disappointing.
On We Need Medicine, The Fratellis try to break a bit of new ground. There's the odd sax solo thrown into the opener, "Halloween Blues," and the surf movie pastiche with clarion synth riffs of "This Old Ghost Town," but as interesting as both songs start out—with typical ear-catching Fratellis style—they just go nowhere. It's as if the whole album was recorded by someone on heavy psychotropics. No highs, no lows, just . . .alive. On the upside, "This Old Ghost Town" does have a nice guitar/keyboard riff, and a vaguely mariachi feel.
The bluesy "She's Not Gone Yet But She's Leaving" is pleasant, and might make you nod your head a couple of times. "This Is Not The End Of The World" is almost ballad-y and boasts a pretty good chorus. The title track is stomping and blues-inflected as well, with nice harmonies, but it ebbs in power and fails. "Until She Save My Soul" does the same thing: starts with a bang and wanes like a tide rushing from shore. "Jeannie Nitro" could use some gas. It's frustrating, because The Fratellis really are better than this.
"Rock N Roll Will Break Your Heart" is better. The big drum sound with delicate bells pairs nicely with Jon Fratelli's raw crooning. "Whisky Saga" is funky and pulls in a bit of banjo to add flavor.
I wanted We Need Medicine to be better than it is. It's merely okay. I imagine that some of these tracks will stand up in a live situation and become more exciting, but on record, they're just not. They're barely interesting. And certainly there are worse bands out there than The Fratellis, but I'm not desperate to listen to their music, either.
We Need Medicine was released through BMG on October 8.
Tour Dates:
11/1: New York, NY @ Webster Hall
11/2: Washington, DC @ U Street Music Hall
11/3: Boston, MA @ Paradise
11/4: Philadelphia, PA @ World Café Live
11/6: Chicago, IL @ Metro
11/7: San Francisco, CA @ Rickshaw Stop
11/8: Portland, OR @ Wonder Ballroom
11/9: Seattle, WA @ The Crocodile
11/12: Los Angeles, CA @ The Fonda Theatre