Published on October 21st, 2013 in: Book Reviews, Books, Current Faves, Horror, Reviews |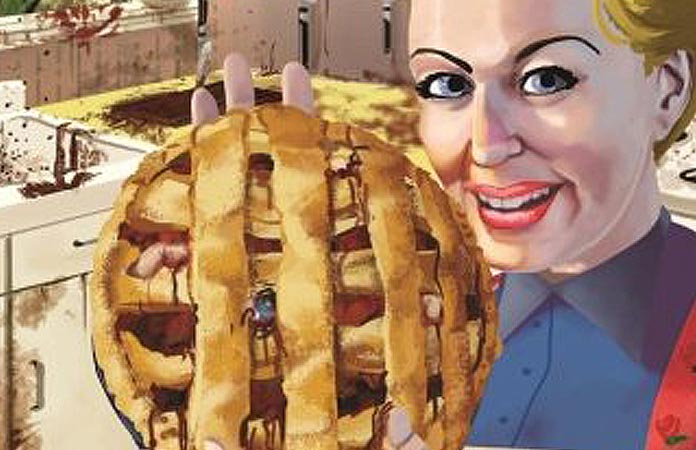 October is here! And just in time for Halloween, the Nashville Writer's Group presents Comfort Foods, a horror anthology edited by Nashville author Nikki Nelson-Hicks. The collection includes 13 short stories from local writers, many of which have distinctly Southern, if not uniquely Nashville, flavor to them. Some of these tales offer new takes on classic chills such as ghosts or zombies, and others invent entirely new nightmares for the reader.
Some of the best stories of the bunch are the ones that are long enough to get lost in. "A Scar Worse than a Keloid," by Melissa Posecznick, is a story that you may enjoy on a level that you're not comfortable with, laughing even as you are horrified. Posecnick takes on that most venerated of Southern institutions, grandma's home cooking. (And no, it's not what you're thinking, either. I promise.) Angela Trumbo creates a dreamlike atmosphere in the carefully constructed "Fairy Tale Knots," innovatively combining fairy tale and monster imagery in the modern day. In "Always the Feet," by Robert Crow, a canny but troubled country boy sets out to commit robbery but ends up biting off more than he can chew. Crow's strong story provides a strong finish to the anthology itself.
"Contradictions, by Jack W. Butler, is one of the stories that departs from traditional monsters, as a young man, newly bereaved by the loss of his parents, retreats to their vacation home in Arkansas's Ouachita mountains. Hunter C. Eden, author of "The Reunion," is very creative with both world building and imagery in his contribution, and also wrote one of the narrators I found most relatable. And the idea of a bargain with the Devil gets a Music City twist in "Sunday Dinner" by Mary Lang. Be careful what you don't ask for!
The shorter tales in Comfort Foods are also quite effective. "In the Garden, Where the Bones Are" is a slice-of-life story that reflects the musical background of its author, Kim Caudell. The small details intentionally provide a much greater shiver than the disturbing discovery that begins the story. Both "Bones in the Wind" by Eustus Claver Horne and "Retrieval Service" by Larry Underwood (a.k.a. TV's Dr. Gangrene) tap into the horror tradition of punishing characters for bad actions, and manage to do so in unexpected ways. The chilling "I Know You" by Mandy Haynes consists of one side of a two-way conversation . . . and it doesn't take long to figure out whose point of view we're listening to.
Even the anthology's more frustrating pieces have their strengths. "Dull Flesh, Sharp Fangs," by D. Alan Lewis, puts a sort of steampunk twist (with a dash of magic) on the idea of Frankenstein's monster, but leaves you wanting more. Mark Steinwachs awakens his protagonist directly into a zombie apocalypse in "Family Affair," then teases a twist that is never quite delivered. (This story, too, feels like it wraps too soon.) "91, She Lived a Good Life Elizabeth Buntin brings the horror of domestic violence to the supernatural. Its spare, evocative style works well for the anthology's only poem, but it ends tragically in a way that didn't make sense to me.
The stories in Comfort Foods are arranged in an order that both shows off their variety and makes for smooth transitions. It's punctuated by illustrations submitted by the authors of the pieces, and wrapped up by witty author biographies from Hicks. Everything is served up with playful, unsettling cover art by Hicks's daughter, Brenna.
There are a couple of recurring motifs in the stories, such as funeral rites, grandmothers, and cannibalism. Perhaps these, in particular, are as much because they are Southern horror as because they are horror, but it is not a strictly regional collection. Every story includes one critical ingredient: a sense of terror, if not madness or depravity, in the mind of at least one character.
Comfort Foods is one of four anthologies from the Nashville Writer's group, with others being Soundtrack Not Included (Vol. 1), Not So Fast: An Anthology of Southern Fiction and Humor, and Beyond the Skyline (NWG's science fiction anthology). If you're a horror fan who's interested in some homemade treats from Southern writers, then you'll love the taste of Comfort Foods! It's available on Amazon.com and Createspace, and will soon be available at bookstores around Middle Tennessee.