Published on October 15th, 2013 in: Current Faves, Music, Music Reviews, New Music Tuesday, Reviews |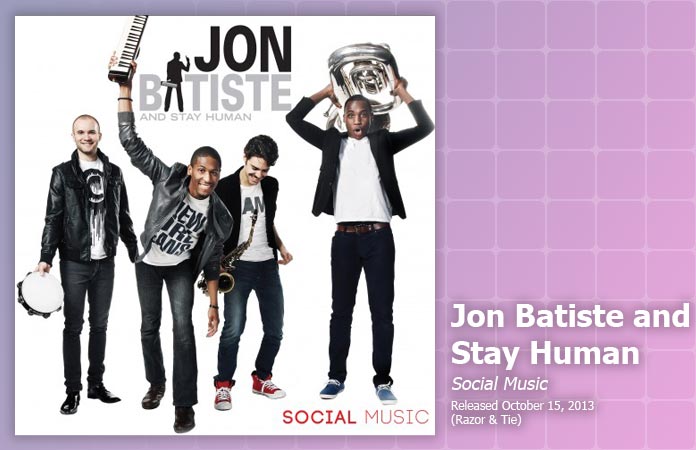 Jon Batiste was born into New Orleans musical royalty—it is not mere coincidence that Wendell Pierce's character Antoine shares the surname. On their debut album, Social Music, Jon Batiste and Stay Human dip effortlessly into different genres and make a remarkable album. It's warm and engaging, and Batiste's piano prowess is awe-inspiring.
From the lead-off track, "D-Flat Movement," in which Batiste elegantly duets with thunder and rain, the vibe is set. Social Music is a cohesive album, and each track flows into the next. Batiste's soulful vocals on the percolating and infectious "Let God Lead" sound like a lost Andre 3000 track. Ibanda Ruhumbika lays down a fierce tuba line and Jon Batiste plays the melodica delightfully (though he calls it the "harmonaboard").
The experimental "Express Yourself (Say Yes)" is anchored by a harmonaboard riff and layers of vocals, some fuzzy, some wailing. The result is rich and delicious. The tropical tango of "San Spirito" is beautiful, each instrument melding together and playing off one another.
Jon Batiste and Stay Human take jazz standards and interpret them in ways that are wholly fascinating. Their haunting version of "St. James Infirmary" is inventive, bold, and powerfully sung. "Naima's Love Song" is joyful and delightful, with playful harmonaboard. While "Star Spangled Banner" isn't a jazz standard, Batiste's filmic and clever version will change the way you hear the song.
"The Jazz Man Speaks" is a blend of gorgeous ragtime piano ("Maple Leaf Rag") over a spoken sample of Jelly Roll Morton. Batiste makes it sound easy, which is terribly difficult. His piano runs on "Lonely Cry In Manhattan" are grand, complimenting Eddie Barbash's muted alto sax.
"It's Alright (Why You Gotta)" is wildly catchy—New Orleans strolling piano meets cha cha, and Batiste wails like Screamin' Jay Hawkins. The sensuous groove swings like crazy and it is the kind of song you want to repeat immediately, ad infinitum.
Social Music is a hodgepodge of musical influences—jazz, blues, hip hop, classical, Americana—mixed together to make something that is wholly new and inventive. Jon Batiste and Stay Human have made a record that simultaneously looks forward with one foot firmly anchored to the past. It's glorious to hear.
Social Music is out today from Razor & Tie.