Published on October 15th, 2013 in: Current Faves, Music, Music Reviews, New Music Tuesday, Reviews |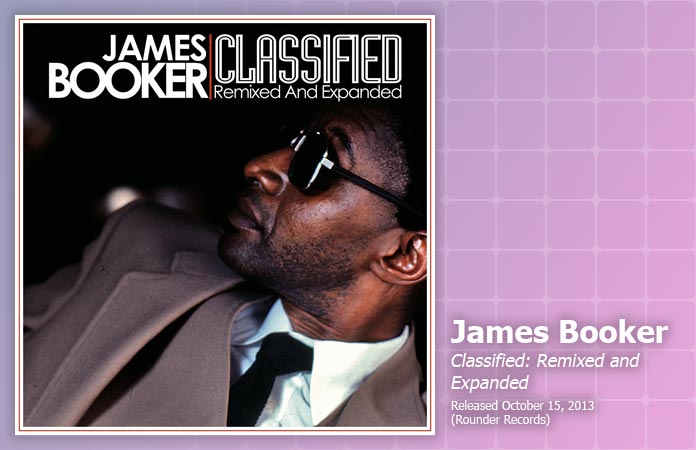 All Music Guide calls the original edition of James Booker's Classified his best album. I can only imagine how delighted they will be upon hearing Classified: Remixed and Expanded. Released on CD and limited edition double LP vinyl, this remixed version offers nine never-before-released songs as well as voluminous liner notes.
James Carroll Booker III went by many self-given monikers: The Bayou Maharajah, The Bronze Liberace, The Piano Pope, The Ivory Emperor. A flamboyant and astoundingly talented pianist, he fits neatly into the lineage of New Orleans piano greats: Jelly Roll Morton, Professor Longhair, James Booker, and Booker's student, Harry Connick, Jr. Booker was a bit of an odd duck, and perhaps that's why he's not in the Rock and Roll Hall of Fame or comes to mind as unbidden as the other demigods of NOLA piano. Dr. John, himself no slouch, called Booker "the best black gay, one-eyed junkie piano genius New Orleans has ever produced."
It is said, however, that simply hearing Booker's music wasn't enough. One had to see him perform to grasp the true skill and virtuosity. I am sure that's true, but unfortunately, Booker died in 1983. What we're left with, though, is astonishing.
Classified: Remixed and Expanded starts off with "Classified," and Booker plays piano percussively on this driving tune. The tiny imperfections make it amazing: a finger slipping off a key, a bit of a bobble. It feels alive and vital, like it's a pulsating, breathing thing. "Medley: Tico Tico/Papa Was A Rascal/So Swell When You're Well" is another propulsive, lively turn—it is impossible to sit still when listening to it.
The slow burn of "If You're Lonely" is transporting. You can't help but be swept up in the Booker's viscerally pained voice. Alvin "Red" Tyler supplies breathtaking tenor sax. The alternate take of "If You're Lonely (Solo Piano Alternate Take)" is dazzling, and possibly even more heart rending.
"Professor Longhair Medley: Tipitina/Bald Head" is stunningly beautiful. Booker takes such a familiar piece as "Tipitina" and makes it luxurious and elegant—much like Allen Toussaint did with "Tipitina And Me." They could be companion pieces.
James Booker's sense of humor pops up on his wickedly witty, grooving take on "King Of The Road." He covers "Hound Dog" as well, a bluesy version that has a shambolic ending. "Yes Sir, That's My Baby" swings in a way that you'd never expect, with Booker playing a Hammond B-3 organ. "Baby Face" is diabolically quick, and wild things happen in the upper keys from Booker's mad right hand.
His performance of "I'm Not Sayin'" is nothing short of virtuoso, fingers slipping over the keys until the piano doesn't even sound like a piano anymore. It's brilliant and soulful. Booker's self-penned "Three Keys" is expansive and striking, and terribly moving.
With the release of Classified: Remixed and Expanded as well as the upcoming documentary about James Booker, Bayou Maharajah, it feels as if it is time for this unnoticed genius to get the due that he deserves.
Classified: Remixed and Expanded is out today from Rounder Records